*I will not spoil anything, I will just talk about a few mechanics but still….
IMDB Synopsis
A secret agent embarks on a dangerous, time-bending mission to prevent the start of World War III.
"Don't try to understand it, feel it"
A Christopher Nolan (the God) movie has become its own genre on some level in the film world today. He is in the rare air of names like Tarantino, Coen, Scorsese, Spielberg, and very few others where you have to stop what you are doing and see their movies. His movies have changed cinema in the 21st century and Tenet is no exception.
I had the opportunity to see Tenet in a safe movie theater, which I know there are some that do not feel comfortable with that. But to return to my favorite place in the world to see a movie by my favorite director ever, was just a proposition I could not pass up. And yes for me it was 100% worth it.
As with every Nolan movie there is a spoiler barrier you need to dance around, but that is because again with Tenet he delivered an original and incredibly twisted story, that keeps you on your toes until the second the credits hit. He does this not only with his air tight script, but also by using Hoyte van Hoytema's incredible camera work (utilizing Imax film), and Ludwig Göransson's absolutely stunning score. All of these different factors immerse you in this movie unlike any other filmmakers can.
A film that deals with reversal of time, bomb plots, and just some good old fashioned spy action. Because at the end of the day Tenet really feels like Christopher Nolan (the God) wanted to make a Bond movie. It feels like that because our Protagonist John David Washington essentially is given a mission (by some dudes with British Accents) and then has to globe trot to execute that mission. Oh and how can I forget a terrifying Bond esque villain played by the always wonderful Kenneth Branagh. However, everything in between is all original and all Nolan.
Stock Watch
Stock Up – John David Washington
Plain and simple he carries this movie from start to finish sure like Blackkklansman he has his partner, but this is really his movie. Every scene he gives you swagger, and grace mixed with intensity and emotion. And man is he just on the rocket ship right now. He has completely shed his Last name and legacy to become a star in his own right. Whatever he does next I will be first in line.
Stock Neutral – Christopher Nolan
UHHHH next question please
Stock Up – Robert Pattinson
He was fantastic in this role really as the guide on The Protagonists journey. He is the definition of suave and brings the energy we are looking for at all times. Obviously he is having a cultural moment as well, because his movie The Batman is coming out soon, where he plays a character called The Batman (ever heard of him?). Clearly Pattison is going to be at the top for a long time.
Stock Up – Elizabeth Debicki
Debicki has the look of a star, the tall and striking actor just jumps off the screen. And she really has just been waiting for a role like this, because every scene of her just on a boat off some beautiful coast, is stunning. You cannot take your eyes off her and she is the emotional core of the story.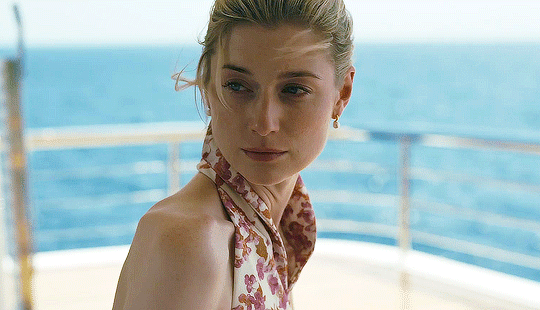 Stock Up – Ludwig Göransson
I know I said it above but my god was this score insane. After his Oscar for Black Panther, his incredible work in Mandalorian and now this, he seems to be the heir apparent for The John Williams and Hans Zimmers of the world. This movie is not even close to what it is without his score.
*A couple other tidbits
I thought Himesh Patel was hilarious after his star turn in Yesterday.
What is a Christopher Nolan movie with Michael Caine? It is not one for me let me tell you that.
When the movie blows up to the full Imax aspect ratio it is truly a site to see.
Aaron Taylor-Johnson is always a pleasure. He is a whirlwind in this role, but brings it every minute on screen.
Tenet is a movie that is not easy to understand probably demands second and third watches. But god damn if this movie is not Cinema at its highest of levels. Story, acting, visuals, and sound are what movies are all about and Nolan once again brings it throughout the entire 2 hour and 30 minute runtime. I know everyone either cant go see this or does not feel comfortable. But if you are able to, this is an incredible theater experience and reminded me why I love going to them in the first place.
Juice Rating:
*You can find my 2020 Rankings here.
*You can find my Christopher Nolan Rankings here.
*You can find all of my Movie Ratings here.
*You can follow my Letterboxd account here.