Okay Juicers, so I am doing this 30 day Film Challenge that should really give my thoughts and emotions an interesting time during the next month of quarantine. Day 25 asks me to pick a movie that I like set in a different era. That is a ton of choices but I decided to do my favorite Coen Brother movie and that is O Brother, Where Art Thou?
*Spoilers I guess?
IMDB Synopsis
Ulysses Everett McGill (George Clooney) is having difficulty adjusting to his hard-labor sentence in Mississippi. He scams his way off the chain gang with simple Delmar (Tim Blake Nelson) and maladjusted Pete (John Turturro), then the trio sets out to pursue freedom and the promise of a fortune in buried treasure. With nothing to lose and still in shackles, their hasty run takes them on an incredible journey of awesome experiences and colorful characters.
"I'm a Dapper Dan Man!"
Picking a favorite Coen Brother movie is an impossible decision because they have made so many incredible movies. They also decided a long time ago they would make movies in different genres with incredibly distinct characters. You can pick from a long line of Raising Arizona, Fargo, Miller's Crossing, and on and on but I have always had an incredible love for O Brother. One, because it is a fantastic movie, but two I have always had an affinity for the Iliad and the Odyssey (more on that tomorrow).
O Brother is clearly a modern retelling of The Odyssey in a very wacky and clever way. Odysseus has turned into our three escaped convicts turned wanderers, Ulysses Everett McGill (George Clooney), Delmar O'Donnell (John Turturro), and Pete (TBN!). Once they escape they get into many different adventures throughout Great Depression era Mississippi. They get washed by the lord, record a smash hit song (and it bangs), get caught up with robber "Babyface" George Nelson, get involved with the KKK, and become an integral part of the Mississippi gubernatorial race. It is one crazy scene after the next and none of them feel like they are out of place.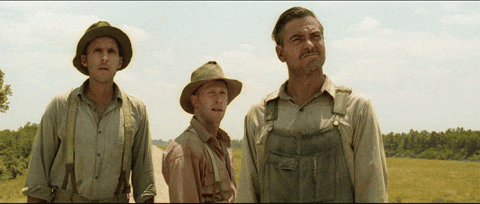 One particular scene I will highlight is basically the climactic scene when the Soggy Bottom Boys have to sing their hit song Man of Constant Sorrow. This is one of my favorite scenes ever and watching the boys do their thing just makes me so happy. Starting with Turturro dancing in the background trying to be inconspicuous. On to Tim Blake Nelson who just seems really into the whole thing and is going for it.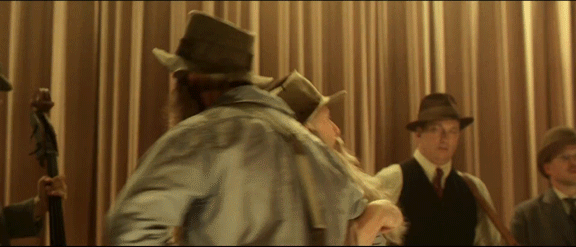 And then there is George Clooney, beautiful George who has seemingly and purposefully turned off the handsomeness for this role. He seems to be having so much fun just hopping around the stage all while listening to a tune that you cannot help but rock to it. It is an all time scene in a career of all great scenes. You can really see the Kentucky side of Clooney come out in this scene.
Who's That Guy/Gal?
Stephen Root – 248 IMDB Acting Credits
I talked about him in my Bombshell review but as we all know he is the G.O.A.T. of That Guys in the world. When he is on screen you know you are going to get a whacky and memorable character out of it. He does that in this as the blind recording studio owner who steals multiple scenes.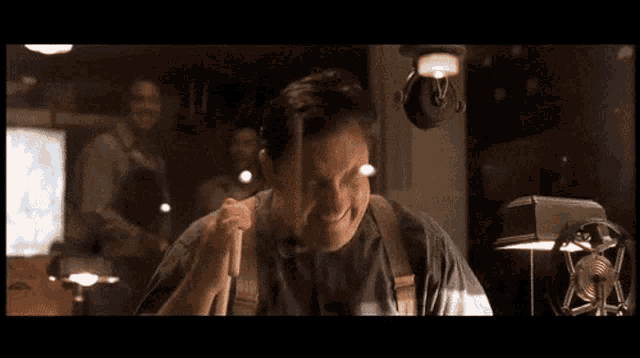 *A couple other tidbits
Who doesn't love seeing Coen Brother regulars Holly Hunter and John Goodman?
T Bone Burnett who did the music absolutely crushed it creating another iconic Coen Brother score.
This was the first time the Coen's adapted a screenplay and it wasn't original.
This is a magnificent adventure and like John Turturro said "It is the Lawrence of Arabia" of Hillbilly comedies. And that is what makes this so great, it is a comedy, an adventure, and a love story all wrapped into one.
Juice Rating:
*You can find my Coen Brother Rankings here.
*You can find all of my Movie Ratings here.
*You can follow my Letterboxd account here.