Okay Juicers, so I am doing this 30 day Film Challenge that should really give my thoughts and emotions an interesting time during the next month of quarantine. Day 24 hits home for me because the question is pick a movie you wish you could have seen in the theater. Well the theater is my favorite place in the world and now that we are in quarantine it makes me take this question to heart even more. The movie is I chose is Michael Mann's legendary Heat, because honestly Heat kicks so much ass and I will do anything in my power to see it on the big screen someday.
*WATCH HEAT
IMDB Synopsis
Master criminal Neil McCauley (Robert De Niro) is trying to control the rogue actions of one of his men, while also planning one last big heist before retiring. Meanwhile, Lieutenant Hanna (Al Pacino) attempts to track down McCauley as he deals with the chaos in his own life, including the infidelity of his wife (Diane Venora) and the mental health of his stepdaughter (Natalie Portman). McCauley and Hanna discover a mutual respect, even as they try to thwart each other's plans.
"The Action is the Juice"
Sometimes for a movie everything just comes together. You have the director in his prime waiting to paint a masterpiece, two legends looking to continue a second wave of greatness, and a supporting cast of characters that all feel perfectly in this world. Let's start with one of my favorite Directors ever and that is Michael Mann.
Before Heat, Mann was famous for creating the TV show Miami Vice and for a couple interesting movies such as Manhunter, Thief, and the Last of the Mohicans. He was becoming known as one of the great technical directors of his era. A guy who can make an extremely big movie feel small which is a hard thing to do. Heat is a movie that took him to the next level, but also shows everything that makes him great. His screen writing ability is deft, his choreography of the bank robberies is masterful, the sounds and music are so big that only the best speakers to do it justice, and of course the intense and stylized camera movement during the action scenes. His action is all very bombastic but unlike say Michael Bay, most of his work is very easy to follow.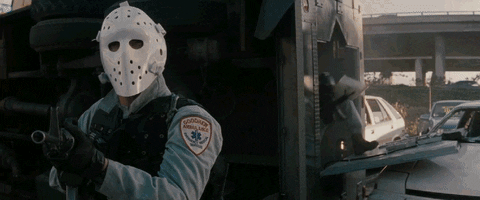 You cannot talk about the film Heat though without discussing two very important figures. Robert De Niro and Al Pacino (ever heard of them?) had only been in one movie together before this and that was Godfather Part II, however since De Niro was only flashbacks they weren't in any scenes together. So this was a massive deal to see two of the greatest of all time go at it. This is Wilt and Russell, Bird and Magic, Lebron and Steph, the best of the best. De Niro playing the bad ass robber named Neil McCauley, and Pacino, playing the Cat to De Niro's mouse, as Lieutenant Vincent Hanna hunting him. The movie builds in the beginning showing why both do what they do and how they do it. However, you know there is going to be a confrontation and when that happened it created one of the greatest scenes in movie history.
We also get great supporting performances from Val Kilmer (and his feathery hair), a very young Natalie Portman, Jon Voight, Amy Brenneman (shoutout Leftovers), Ashley Judd, Hank Azaria and numerous others. This is obviously an all star cast and since the movie is nearly 3 hours everyone gets a moment to shine in. Thought about saving this for tidbits but the iconic Azaria and Pacino scene was semi ad libbed leading to Azarias shocked reaction.
Who's That Guy/Gal?
Ted Levine – 87 IMDB Acting Credits
I talked about him in The Report, but anytime Buffalo Bill is on my screen it has to be noted. He gets a brutal death in this as well which is kinda funny.
*A Couple other Tidbits
Danny Trejo!
That ending at LAX is just magnificent and brings the story to a fascinating conclusion.
This was all filmed on location around L.A.
Mann wrote Heat in the early 80's but held off until he felt he was ready for it.
Jon Voight's hair is bananas you just cannot take him seriously.
This is Michael Mann's masterpiece simple as that. Everything came together perfectly for it and it is just so much fun to watch. It pains me to never have seen this in a theater and I hope on some anniversary of it they decide to throw it back in a cinema. I will be there I promise you that.
Juice Rating:
*You can find my Michael Mann Rankings here.
*You can find all of my Movie Ratings here.
*You can follow my Letterboxd account here.