*Be Excellent..
IMDB Synopsis
A visitor from the future tells best friends Bill and Ted that one of their songs can save life as we know it and bring harmony to the universe.
"Greetings, my excellent friends"
Bill and Ted are names you hear if you are a movie fan and an image immediately pops into your head. Two semi stoned teens who love to rock, and just have a positive attitude about life. You also think of the indelible Keanu Reeves and Alex Winter playing them and how it launched both their careers.
Well in the world we live in, nothing stays dead so they are back 25 years later to finish off the Excellent adventure. But this time it is a heartfelt family affair to go along with just our two lovable musicians.
We pick up with Bill and Ted still searching for the song that will unite the universe, but their families have had enough! Ted is even ready to give up and sell his guitar. But out comes Rufus' (George Carlin) daughter Kelly (Kristen Schaal) to whisk them off to the future for one last effort to save reality. But of course while they are off galavanting through space and time, their daughters Thea (Samara Weaving) and Billie (Bridgette Lundy-Paine) basically are recreating the original movie by going through time to pick up famous musicians to pair with their fathers. Think about the Force Awakens and that is basically what we are getting here.
I honestly felt like this movie had a lot of similar vibes to another reboot and that is Jay and Silent Bob's Reboot. Even though this movie was a bit more serious, I felt what both movies did great was really put their movie into the universe of the canon. A lot of times with these reboots the tone feels off or actors are not fully committing, but with Face the Music, everyone is fully committed and the tone feels true to the original two movies.
Stock Watch
Stock Neutral – Keanu Reeves
Neo, John Wick, Ted Logan I think he is doing fine.
Stock Up – Alex Winter
This stock is based on everything goin on with Winter and that includes all the documentary directing he is doing. He also is great to see back on screen as Bill. He never did a ton of acting in his career but this character was always perfect for him, so it was great to see him embrace that again.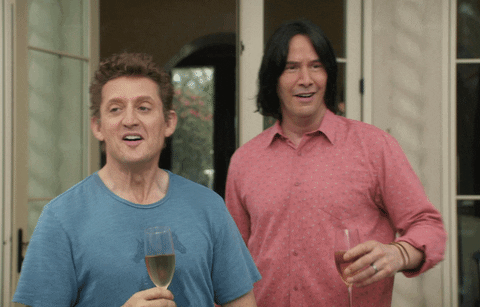 *A Couple other tidbits
Weaving and Lundy-Paine were great as the daughters in not trying to copy their dads, but to expand on it. Both were very funny and stole numerous scenes.
Every time Kid Cudi was on screen I laughed.
Seeing Death again was great.
Dave Grohl!
Jillian Bell as always is so much fun to watch in any role she plays.
Dean Parisot did a great job incorporating this movie into the Bill & Ted Universe, and even though the third Act is a bit of a mess, I still think this is a very enjoyable watch. It hits the sweet spot of nostalgia and low stakes fun that feels necessary in this locked down world of ours.
Party on Dudes!
Juice Rating:
*You can find my 2020 Rankings here.
*You can find all of my Movie Ratings here.
*You can follow my Letterboxd account here.