The Oscar Nominations are here and I have some thoughts on the categories and who the Academy decided to nominate for most of the major categories. I will be saving my predictions for closer to the actual ceremony.
– This is a very good category, but as much as I liked Banderas in Pain and Glory I thought Taron Egerton, who just won the Golden Globe, should have gotten in.
– Get Jonathan Pryce out of there and give me Adam Sandler immediately
– Cynthia Erivo, you kidding me? Harriet was fine, but Awkwafina? The Farewell was one of the best movies of the year and she just one a Golden Globe for the role?
– Give me Lupita or give me death, enough of the Judy nonsense, the movie and the performance were just meh.
– Absolutely loaded category here that I have no issues with.
– Scar Jo doubling up here is very interesting but I loved both her performances.
– Kathy Bates getting in over J Lo is kind of sad because Bates had a smaller role in Richard Jewell.
– Love that my girl Florence Pugh got a nomination.
– I really thought Abominable should have gotten in here.
– I am not a fan of Klaus I would have even put Lego Movie 2 over it.
– Sad that a women especially Greta Gerwig could not get in here, but the only one I would take out is Todd Phillips.
– Again a super stacked year but it is just crazy to me Noah Baumbach could not find a way into this group of 5.
– So happy for Bong he really deserves it.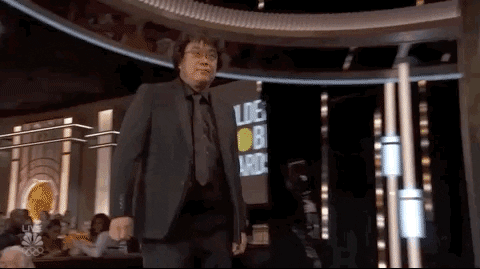 – If Little Women did not make the cut here we would have had to riot.
– Happy to see Ford v Ferrari get some love because it really was a great cinematic experience.
– Cannot state how unprecedented it is for Parasite to have the run it has had. If it finds a way to win it is truly a historic run.
– Love that Jojo got in and shows how respected Taika really is in Hollywood.
– Really sad that The Farewell got overlooked basically everywhere.
I will be back closer to the actual awards for my predictions but for now we will have to debate who deserves to be there or not.
*You can find all of my Movie Ratings here.
*You can follow my Letterboxd account here.