*What the heck is this
IMDB Synopsis
Best friends Mia and Mel run their own cosmetics company — a business they built from the ground up. But they're also in over their heads financially, and the prospect of a buyout offer from an industry titan proves too tempting to pass up. The beauty business is now about to get ugly as the proposal puts Mia and Mel's lifelong friendship to the ultimate test.
As I said in my previous post January is when studios start dumping their movies that, lets just say aren't winning any Oscar's. Like a Boss is a colorful studio comedy that just screams January movie from start to finish. We have a couple funny household names, an extremely lazy story, an inexplicable karaoke scene, a conflict montage 3/4 of the way through and a happy ending.
Our story is two best friends (Tiffany Haddish and Rose Byrne) who have owned a makeup company forever but are in debt for almost half a million dollars. Claire Luna (Salma Hayek) who is a massive figure in the industry decides to invest in their company but says she will take full control of the company if one of them quits. So of course she starts doing things to drive a wedge in between the women and we have to see if their partnership and friendship survive.
The leads were both very funny but everything about this movie from the script to the basic shooting of it just felt lazy. Nothing felt new or fresh or even thought about, it was just a lot of sex and drug jokes, that would be fine if they were funny. It also just felt bland to be honest because there was hardly any music, and most of the scenes felt like they went on too long and lost steam.
Stock Watch
Stock Down – Tiffany Haddish
She officially has gone into the Rebel Wilson category where she just plays the character from her breakout movie in every subsequent role. She just really has one beat and it seems to be wearing off for me at least. I think she is still pretty funny but I just wish she would try something different.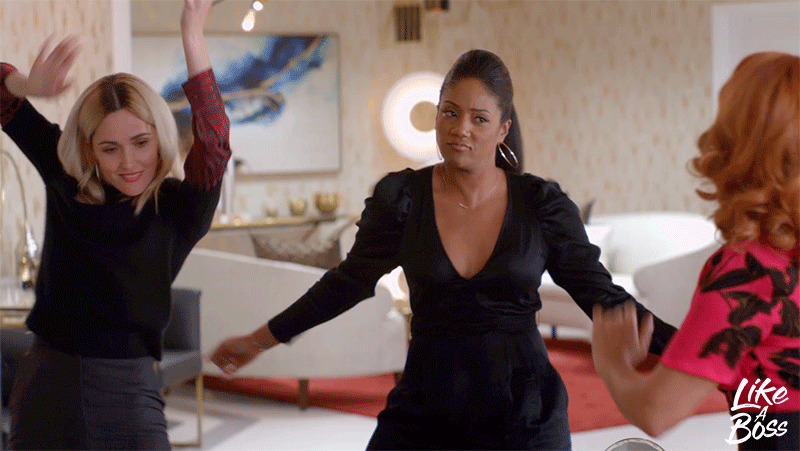 Stock Neutral – Rose Byrne
Byrne is a very funny actress who has done some good comedic work (Neighbors, The Internship, Instant Family) as well in the dramatic realm (TROY!, X-Men). She plays her typical comedic role in this but I do not think it hurt her stock like Haddish's because she has shown some other chops.
Stock Neutral – Salma Hayek
This role was one big Boob joke, and I wish I was kidding. Other than that she was a satire version of Meryl Streep in Devil Wears Prada.
Who's That Guy/Gal?
Jennifer Coolidge – 111 IMDB Acting Credits
STIFLER'S MOM!!! Nothing better than seeing her on screen and she was easily the funniest person in this movie.
*A couple other tidbits
I am done with the Billy Porter thing going on right now, he is just not funny.
Jimmy O. Yang and Ryan Hansen were hilarious as the straight guys who do makeup.
Lisa Kudrow What the Hell!
Not much else to say than this was one of the lazier efforts I have seen in awhile. Some of the performances are funny but overall not enough to save this one.
Juice Rating:
*You can find all of my Movie Ratings here.
*You can follow my Letterboxd account here.