*This is a true historical story…
IMDB Synopsis
When an outlaw discovers his enemy is being released from prison, he reunites his gang to seek revenge.
"How long you been alive in this country? A rock and a hard place is what we call Monday."
Westerns have been around in cinemas for a long, long time. For years they were considered the Superhero movies of their day, aka the popcorn fare. However, you will notice there are not many black people in those movies, meaning not many stories were ever told of black cowboys. Black Cowboys you ask? Well, of course Black Cowboys existed we just have not gotten to see or hear their stories like we absolutely should. The Harder They Fall gives us an incredible tale based on actual Cowboys and we get a fantastic cast to bring it all to life.
Jeymes Samuel in his transition from Music to Director, helped write, produce, and of course did the music for the movie as well. He decided to tell the story of Nat Love and his journey for revenge on Rufus Buck for killing his parents. The movie really gives us the story of each gang and you grow to love people on either side. So when it comes time for the inevitable shootout, you feel conflicted, which is just good writing. We get all the classic western tropes, the gunslinger, the damsel in distress, the quick draw face off and on and on, but all of it is done with so much style and flare that it feels fresh.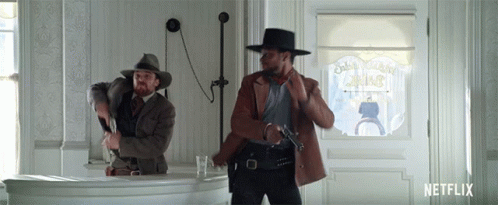 A smart move by Samuel was to find a seasoned DP and they found him in Mihai Mălaimare Jr. A man with credits such as THE MASTER, THE HATE U GIVE, and JOJO RABBIT, so he knows how to make a movie look great. As I said above this movie has a ton of style, and a lot of that is done in the shooting and the editing. Some of the shots of the vistas or the gangs just riding along really made me wish I saw this in a theater. Also Samuel is a renowned musician so of course the music is a massive part of this movie, and drives the story almost as a character of its own. Clearly, all of that was thought out and executed at a high level.
Stock Watch
Stock Up – Jonathan Majors
You kidding me at this point Juicers? This guy is an absolute super star and if you haven't taken notice, that is on you. Just in the last year, Da 5 Bloods, Lovecraft Country, Loki and now starring in a movie among numerous other stars. He is going to be a a gigantic star once Ant Man 3 comes out. Nat Love was one of the most famous heroes of the old west and Majors brings him to life beautifully.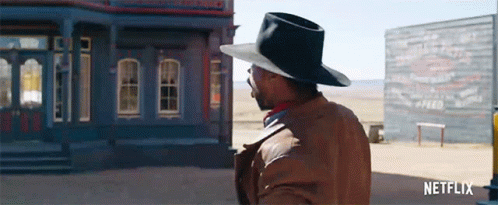 Stock Neutral – Idris Elba
He really loves Cowboy movies I will say that, but other than that he's just been on top for a very long time. I have loved him ever since THE WIRE, and he seems invincible as far as being able to work in any genre. I loved his work in this and you immediately felt his ominous presence in every scene.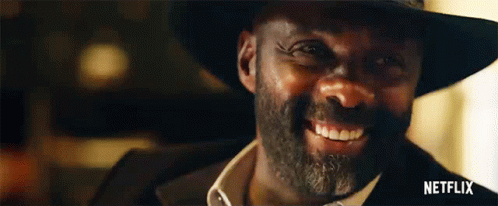 Stock Neutral – Regina King
Again do we really need to do this. She is a queen and has been forever. Please go watch her movie ONE NIGHT IN MIAMI (I should have written about it at the time, I am shameful).
Stock Up – Zazie Beetz
She has been steadily rising for years in ATLANTA, JOKER, DEADPOOL 2, and even HIGH FLYING BIRD. Like I said above she had great chemistry with Majors, and owned every scene she was in. She played Stagecoach Mary, so not your typical damsel in distress, she got to be a bad ass.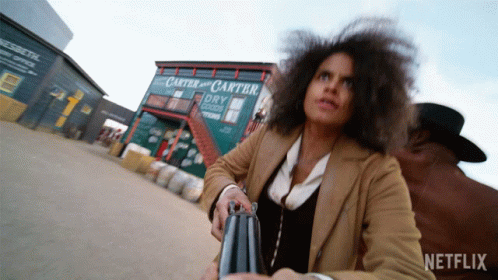 Stock Neutral – Lakeith Stanfield
He has already proven now he can do it all: Rom-Com Check, TV Check, Detective movie Check, Hang out with Kevin Garnett Check, Lead a movie Check. Now he gets to just have fun and play in this world as Cherokee Bill. A skilled fighter who claims he does not enjoy violence. He is a complete wild card in this and I loved it.
*A couple other tidbits
The little kid they found looked so much like Jonathan Majors.
Cowboy Cerrone!
Delroy Lindo still does not get enough respect and should be in every movie.
This movie was pretty great, and told us about people that I had never heard about at all. These people and many others deserve to have their stories told and to do it in such a fun and stylish way is exciting. It helps as well to have a who's who today with incredible Black Actors and I hope it is just the beginning of many more stories like this.
Juice Rating:
*You can find my 2021 Movie Rankings here.
*You can find all of my Movie Ratings here.
*You can follow my Letterboxd account here.