*This is a prequel…
IMDB Synopsis
In this prequel to "Army of the Dead," a mysterious woman recruits bank teller Dieter to assist in a heist of impossible-to-crack safes across Europe.
"It's not just about the money, Brad. It's about the quest."
I honestly cannot believe I am writing about this movie already. We knew it was coming after the release of Army of the Dead earlier this year, but it is still a surprise to see this prequel out so soon. As I discussed in the Dead review, Zack Snyder left Warner Bros, after the Justice League debacle, and now has decided to create this new universe with Netflix. This prequel decided to take the most joyful character from that movie and allow him to Direct and Star in his own story.
Matthias Schweighöfer clearly stole every scene he was involved in with Dead, so it could have been a too much of a good thing situation. However, he handles it so well and you get see why his character decides to get himself involved in this world of heisting. You see him in his life as a bank teller, not unlike one Guy in the film Free Guy, and he produces youtube videos on safe cracking that no one watches. He gets invited to an underground safecracking contest, obviously wins, and from there is recruited into your classic heist team. Their led by Gwendoline Starr (Nathalie Emmanuel) a long time criminal, and they are hunting these three different "uncrackable" safes made by some dude name Hans Wagner. What is exciting about that premise is that it gives a clear expectation for the movie, and you get that feeling that each safe will up the ante one to the next. And it absolutely does, and by the end you feel yourself cracking the safe with Ludwig.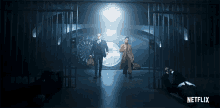 As far as the style of the movie, it is definitely extremely stylish, and has some fun editing. A lot of bouncing back and forth between the team, and very cool inside looks at the safes while they are trying to crack them. I still think Snyder made his movie look "better" but he's Zack Snyder. So to see Matthias make this such a fun and slick movie was very exciting for what he is up to moving forward. We also have a Hans Zimmer score so there really is not much that needs to be said other than that.
Stock Watch
Stock Up – Matthias Schweighöfer
I mean, read everything above….but still the guy is clearly very talented. He again was hilarious in this movie, but also found a way to be bad ass, and have great chemistry with a romantic opposite. He can do whatever he wants next, but I know they are working to continue building out this universe.
Stock Up – Nathalie Emmanuel
She of course had her big break on Game of Thrones, but she has started to carve out a nice little niche for herself in the action world. She was in the Maze Runner series, the Fast Movies, and now is a part of this universe. She has a fantastic screen presence and like I said above, great chemistry with Matthias.
*A couple other tidbits
Loved the tie in with Dead in the final scene, it gave it just enough of a touch to remind us where we are.
A lot of characters from both movies will be voicing their characters in an upcoming animated series, written by Snyder and Shay Hatten.
I am all in on this universe, these movies are just fun. I like that they do not take themselves too seriously and give all the characters the freedom to really just be themselves. I liked this movie even better than Dead, and I look forward to whatever Snyder and co. have planned for us moving forward.
Juice Rating:
*You can find my 2021 Movie Rankings here.
*You can find all of my Movie Ratings here.
*You can follow my Letterboxd account here.