*Minor Spoilers here
IMDB Synopsis
When famed photographer Christina Eames dies unexpectedly, she leaves her estranged daughter, Mae, hurt, angry and full of questions. When Mae finds a photograph tucked away in a safe-deposit box, she soon finds herself delving into her mother's early life — an investigation that leads to an unexpected romance with a rising journalist.
Growing up we all say to ourselves at some point that we do not want to end up like our Mother and Father. However, despite our best wishes most of the time we end up just like them. The Photograph, directed by Stella Meghie, tells the story of a couple who has to do everything in their power to not end up like the people who came before them.
The movie tells this story in two ways, we have Mae (Issa Rae) and Michael (Lakeith Stanfield) starting to get to know each other romantically in the present day. While that is going on we get flashbacks to Mae's mother Christina (Chanté Adams) and her boyfriend Isaac (Y'lan Noel) also going through their own love story. Both of these stories mirror one another and help you understand why the characters make the decisions they do.
Let's just get this out there, The Photograph in question literally has nothing to do with the movie. It is a terrible framing device and just had me confused most of the time. It was supposed to represent the past and the future, but I felt because of The Photograph we spent a little too much time in the past than the present. I felt myself wanting more of the Mae and Michael story and sometimes when the flashbacks hit, I was ready to get back to the present.
Stock Watch
Stock Neutral – Lakeith Stanfield
I really thought this was going to be his moment. He had an amazing rise these last couple years and this felt like the star vehicle he needed, but his performance just did not quite get there for me. He played the part very understated, but it veered into irreverence and did not totally work. I hope he can rev it up in the next few roles.
Stock Up – Issa Rae
As much as this did not hit for Lakeith, Issa Rae was in a similar situation and I thought really brought it for this. She was great in The Hate You Give, and Little but this showed me she has a ton of range. I think she has star power written all over her.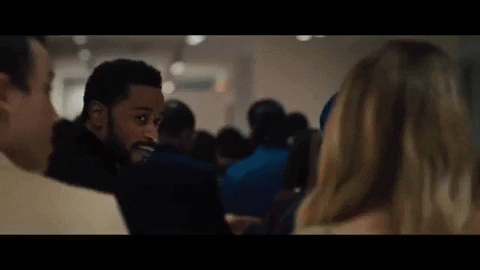 Who's That Guy/Girl?
Rob Morgan – 78 IMDB Acting Credits
Rob Morgan who we just saw crushing it in Just Mercy, gives another great performance here as older Isaac. He has such a calm way about him that makes you feel comfortable as a viewer.
*A couple other tidbits
The Slow jazz music the entire time really took me out of the movie
Lil Rel hilarious as always in his patented best friend role
Did they both ever have to work?
As great as the chemistry is between both of the couples in this, the dual stories just did not land for me. There was too much jumping back and forth and it did not give me enough time to really fall in love with any of the characters.
Juice Rating:
*You can find all of my Movie Ratings here.
*You can follow my Letterboxd account here.