*C'mon now folks
IMDB Synopsis
Searching for a safer habitat, the prehistoric Crood family discovers an idyllic, walled-in paradise that meets all of its needs. Unfortunately, they must also learn to live with the Bettermans — a family that's a couple of steps above the Croods on the evolutionary ladder. As tensions between the new neighbors start to rise, a new threat soon propels both clans on an epic adventure that forces them to embrace their differences, draw strength from one another, and survive together.
"Tomorrow doesn't have to be a place. It's a person. It's you, Eep. You are my tomorrow!"
Finally we have a new Animated movie to get excited about. It feels like it has been forever since movies like Scoob! and Trolls World Tour. Trolls was a DreamWorks sequel and they decided to give us a second sequel this year as well. The follow up to the 2013 movie The Croods, comes The Croods: A New Age.
I know it is has been awhile, but Juicers I know everyone is excited for another edition of the Apple Juice Animation Ratings
Animation – B+
I am a sucker for the big and blocky DreamWorks style, and I actually think the original Croods has some of the best Animation in the canon. The animation in the sequel is good as well, but it does not show a massive step up in 7 years. The story also does not lend itself to the incredible vistas and grandeur of the original. Do not get me wrong this still looks better than 80% of animated movies, I just thought they were going to give us a few more incredible frames.
Voice Cast – C
When you tame down Nic Cage were gonna have some issues. Sure the new additions of Kelly Marie Tran, Peter Dinklage, and Leslie Mann were solid, but Dinklage was the only one that got a chance to really thrive. Emma Stone was still funny as Eep, but when you have Ryan Reynolds and his character is not funny, that is a serious problem. Still though give it up fro my guy Clark Duke (shoutout Sex Drive) as Thunk, you keep watching that Window bro!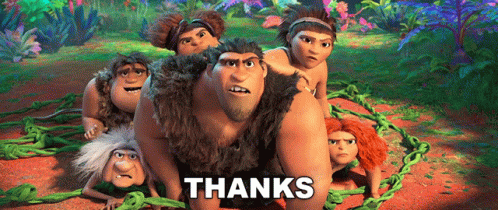 Music – B
Here is where I have an issue my friends. I was just strolling along ready to give this a D or C because the score was meh, and there was no signature song. But then the credits hit and I hear the smooth sound of that Kyle Gass guitar, and that power coming from Jack Blacks voice. I realize Tenacious D wrote a song for this movie, and when the Greatest Band in the World is involved all my thoughts are thrown away. I Think I Love You is a BANGER and I will fight any haters.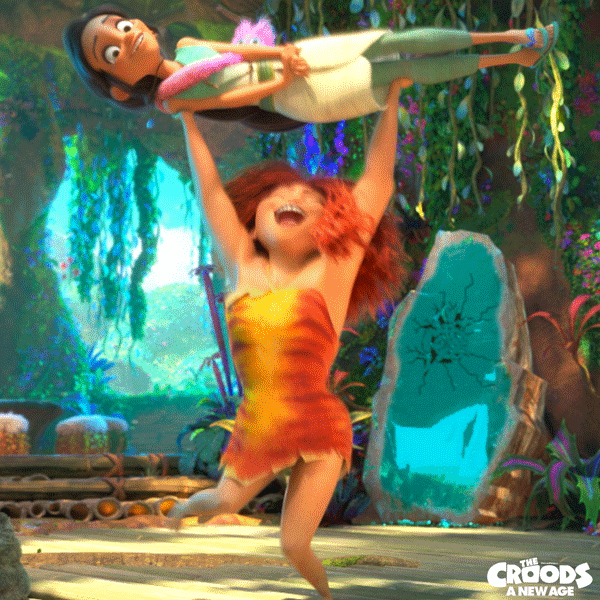 Story – D
This is where I have issues because you really have two movies going on here. You have this weird family dynamic and "love triangle". And you also have this overarching story about keeping a bunch of monkeys happy. The former is actually semi interesting and entertaining. But when the third act hits the movie divulges into a complete mess and tries to weirdly cash in on the superhero trend. That is something I did not see coming and did not work at all for me. What was funny about the first movie and the first half of this was the fish out of water type element, but the second you make it something bigger and ridiculous it takes you out of the world. I think there were just too many overlapping themes in trying to thread the needle between kids movie and something adults can enjoy.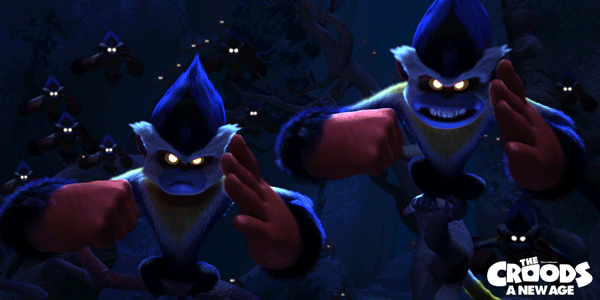 *A couple other tidbits
All the inventions were funny like the toilet, the boat, the sauna, the zipline and all the other cool ideas. It makes you want to create practical things instead of just using our modern technology.
Watching them write in their "diaries" was funny.
The Arena scene had so much potential and just fell so short in my opinion.
This is a sequel that was a long time in production and seems to be DreamWorks trying to get franchises back after Madagascar, Kung Fu Panda, and Shrek. I think it is colorful and entertaining enough for kids but it is not much more than that. Even with Boss Baby 2 coming I really hope DreamWorks gets back to some original stories.
Juice Rating:
*You can find my 2020 Rankings here.
*You can find my DreamWorks Animation Rankings here.
*You can find all of my Movie Ratings here.
*You can follow my Letterboxd account here.