*Not much to spoil here…
IMDB Synopsis
Sylvie has a summer romance with a saxophonist who takes a summer job at her father's record store in Harlem. When they reconnect years later, they discover that their feelings for each other have not faded with the years
"Life's too short to waste time on things you don't absolutely love."
When I saw the trailer for the new Amazon movie Sylvie's Love I was like cool Tessa Thompson in an old fashioned love story. And then BAM Nnamdi Asomugha as Co Star? The former NFL star, it couldn't be right? Sure enough the man has transitioned to acting and already has a production company and is getting starring roles with Avengers.
Written and directed by Eugene Ashe this story is a throwback to the Golden Age of Hollywood. A simple love story with two great actors who display the kind of chemistry you can only hope to have with your own partner. Thompson plays Sylvie Parker a music and tv OBSESSED woman whose determined to be the follow her dreams. Asomugha plays Robert Halloway, an incredible sax player who just wants to love his movie and find someone to love. Together they continue to find each other at the wrong time in their lives and you get the classic will they wont they heartbreak of romance over time.
The story is told over 5 or so years and you really get to see all the ups and downs of the relationship. If you do not care about the characters the story will not work at all, so they really do a good job at the beginning giving you a lot of background on both of them, and their relationship so you feel every bump in the road. It also just transports you to another time when romance and love were just different.
Stock Watch
Stock Neutral – Tessa Thompson
She has been in Avengers and has been one of the top actresses in the world for awhile. While she gives another great performance here, I do not think it necessarily ups the stock any higher. She just continues to put out top level performances and is close to cracking the Pound for Pound top ten list.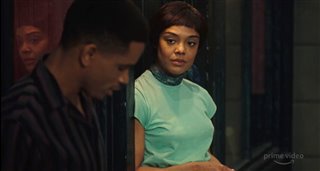 Stock Up – Nnamdi Asomugha
Immediately goes to the top of the list of nominees for the Kevin Garnett Juicy Award. He blew me away with the subtlety and relaxed nature of his performance. He seemed to be so at ease on the screen and it was really impressive from someone who just took up acting. He has a very bright future on screen.
*A couple other tidbits
The movie meandered a bit in the middle.
The music all was so well done and fit the time period to help transport you.
Lance Reddick was unrecognizable as her father.
I am such a big fan of Wendi McLendon-Covey.
Sylvie's Love is the type of movie that you just do not see anymore. An intimate love story that harkens back to the glory days of cinema. It is a smaller movie than you may be used to but it is Free on Prime and the chemistry of the leads will make this worth the watch.
Juice Rating:
*You can find my 2020 Rankings here.
*You can find all of my Movie Ratings here.
*You can follow my Letterboxd account here.