*Not much to spoil here…
IMDB Synopsis
After moving to a sleepy little town, young Lucky Prescott befriends a wild mustang named Spirit, who shares her rebellious spirit. When a heartless wrangler plans to capture Spirit and his herd, Lucky and her new friends embark on the adventure of a lifetime to rescue the horse that forever changed her life.
"This one has a lot of Spirit"
We have discussed a few DreamWorks movies here on the site already, but we are back again because the acclaimed studio has a new movie for us. For years they had great franchises like Shrek, Kung Fu Panda, How To Train Your Dragon, and Madagascar. And it seems recently they are trying to find some new franchises with The Croods 2, Trolls 2, the upcoming Boss Baby 2, and this movie Spirit Untamed. While not a direct sequel to Spirit: Stallion of the Cimarron, this story feels of a piece with that DreamWorks classic.
Now Juicers, we haver been doing this long enough now to know how we do Animation, so lets get to the Apple Juice ratings.
Animation – C
Based on the trailer I thought the animation was going to look like Doc McStuffins because the trailer did no favors for the look of the movie. However, in the theater it did look more like a DreamWorks movie. You could tell they shipped this one off to the B team though because it looked very generic and did not have that signature DreamWorks bubbly look. Hopefully, the A team was focused on Boss Baby, because usually the standard is higher for these guys.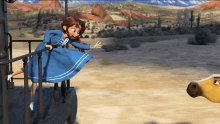 Voice Cast – A-
I actually love the collection of people in this movie. The three girls are all played by rising stars in Isabela Merced, Marsai Martin, and McKenna Grace, while you also get Julianne Moore, Andre Braugher and Jake Gyllenhaal giving fun performances. And how can we forget my guy Walton Goggins of course playing the menacing villain you just cannot stand.
Music – B
As with its predecessor this is a very music focused movie, with a couple of the songs even sung by Isabela Merced herself. Her songs Fearless and Better With You are both great and go along with the rest of the uplifting and fun score. I honestly think I could have even used another song because I enjoyed all of them.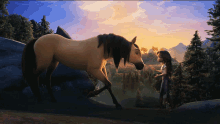 Story – D
Here is where the issue for this movie comes in. The story just is so basic that it feels like a TV movie and not a classic DreamWorks story. We have our hero who has to move to a small town where her mom passed away, and her and the horse she finds both need to learn from each other. I understand it is a kids movie and kids will enjoy, but unlike most Animated stories these days it does not have anything underlying that adults will enjoy or find humor in. Sure not everything needs to be as profound as Soul, I still think though the best Animated movies, including the original Spirit, all can be enjoyed by both kids and adults. This story really tends to stay more on the kid side of that argument.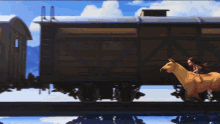 *A couple other tidbits
These kids have amazingly zero problems riding horses without saddles.
Maybe give us one more flashback with the mother?
This movie was definitely better than I thought it was going to be but it is still one of the bottom tier of the DreamWorks movies. It will be entertaining enough for the kids but will probably bore most adults. I really hope DreamWorks soon can find us an original and meaningful story soon.
Juice Rating:
*You can find my 2021 Movie Rankings here.
*You can find my DreamWorks Animation Rankings here.
*You can find all of my Movie Ratings here.
*You can follow my Letterboxd account here.