*Not a ton to Spoil, its Pixar…
IMDB Synopsis
Set in a beautiful seaside town on the Italian Riviera, the original animated feature is a coming-of-age story about one young boy experiencing an unforgettable summer filled with gelato, pasta and endless scooter rides. Luca shares these adventures with his newfound best friend, but all the fun is threatened by a deeply-held secret: he is a sea monster from another world just below the water's surface.
"We underdogs have to look out for each other, right?"
Man, it feels like we just talked about Soul and here we are reviewing another Pixar release. A release that again went straight to Disney+ so it does not feel like an event, rather just another piece of content in the Disney machine. Luca is the latest from the historic animation company and it is the first Italian based Pixar movie as well. Also unlike their main rival they continue to create new and original stories and not just pumping out sequels. Yes, I know you have been waiting patiently though so let's get to the Ratings.
Animation – B+
I know what you are thinking, under and A for Pixar? But yes it was their typically high level animation, I just did not think it completely blew me like Soul or even something like Onward. The switches between Sea Monster and human were incredible though and felt like a live action movie with how they showed it. I also loved the colors of the movie and how different and unique they are compared to Soul, which is unique from Onward, which is unique from Coco and so on. If there is one thing you can say about Pixar is their movies all look and feel different which is a huge compliment. When things start becoming the same it becomes stale.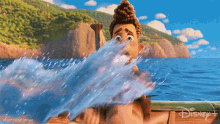 Voice Cast – B-
I thought the voice cast was fun here for sure especially the chemistry between Jacob Tremblay (Doctor Sleep) and Jack Dylan Grazer (Shazam!). They were engaging and fun the entire time. Of course, you have Maya Rudolph (coming quickly off The Mitchells vs. the Machines) and Jim Gaffigan as Luca's parents who are undefeated, but all the different newcomers really brought the Italian Culture to the screen. Saverio Raimondo (Ercole), Marco Barricelli (Massimo), and others felt so authentic that they might be the most memorable characters in the movie. I do think it is interesting they went with American kids for the main roles though because it definitely felt like the Italian accent was not there the whole time.
Music – C-
The Italian flavor to the score again had that unique Pixar feel to it and propelled some of the action scenes for sure. But again, nothing really overwhelmed me like previous Pixar scores. I also as I have said numerous times I love one memorable original song in Animated movies and this one just did not have it.
Story – C+
When you watch this you of course see the threads of The Little Mermaid, or Coco and many other stories like this. But, this is a story about friendship at it's heart and of course explores the idea of parents needing to accept their kids for who they are. It is hard to get mad at the latter storyline because it is basically what every animated movie is about; however I still feel we need to be a little more creative in the storylines that are clearly written for the parents in the audience. A lot of talk around this movie also is that it feels like they are portraying a gay character in Alberto, which they did in Onward as well. I think it is great we are seeing all different types of characters in Pixar movies, and pretty soon they will have a gay lead character in their movie, you can take that to the bank. Regardless, the chemistry between Alberto, Luca, and Giulia (Emma Berman) was the heart of the story and gave the story that classic moral of never judging people by their outside, but what is on the inside is what matters.
*A couple other tidbits
All the Pasta looked positively scrumptious.
The credits song with La Lluna in it was for sure a call back to the Director's Pixar short La Lluna (Check it out on the +).
I wanted more from the final race, I felt a bit underwhelmed.
I think now that Pixar has put out so many different movies you can really tell the upper tier from the mid to lower tier of them. Still though even their worst movie is better than most movies, and definitely better than a lot of animation coming out these days. So even if Luca is not up their with the Toy Story's, or Incredibles type of movies it is still very worth your time.
Juice Rating:
*You can find my 2020 Rankings here.
*You can find my Pixar Rankings here.
*You can find all of my Movie Ratings here.
*You can follow my Letterboxd account here.