*You know what you are getting here…
IMDB Synopsis
Dom Toretto is living the quiet life off the grid with Letty and his son, but they know that danger always lurks just over the peaceful horizon. This time, that threat forces Dom to confront the sins of his past to save those he loves most. His crew soon comes together to stop a world-shattering plot by the most skilled assassin and high-performance driver they've ever encountered — Dom's forsaken brother.
"I used to live my life a quarter mile at a time. But things change, I'm a father now."
How do we talk about Fast and the Furious movies Juicers? These movies are so hard to discuss because they are big, dumb, implausible, corny, and most of all not about cars anymore. However, these movies also make a hell of a lot of money every time in theaters and there is a massive fan base surrounding the franchise. Now 10 movies in, including Hobbs and Shaw, this easily is one of the most profitable franchises of all time, and does not seem to be slowing down any time soon.
This new installment, which brought Justin Lin back to the franchise, really tries to tie everything back together from the beginning; while simultaneously trying to be an Avengers movie. We are introduced to our antagonist, Jacob Torretto (John Cena), and through flashbacks we get to see the story of the Torretto's. What happened to their father, why Dom (Vin Diesel) went to prison, and why they didn't talk to each other for the first 8 movies. The story is interesting but the script is so hard to listen to that the execution just is not there. Sure, it is easy to say well this movie just is not about cars and stealing DVDs anymore, but this transition to a James Bond esque spy series is just not meshing with these characters, for me.
As far as the Avengers comparison, you really get everyone here (except Hobbs & Shaw). We get Letty (Michelle Rodriguez), Mia (Jordana Brewster), Roman (Tyrese Gibson), Tej (Ludacris), Mr. Nobody (Kurt Russell), Ramsey (Nathalie Emmanuel), Cipher (Charlize Theron), Mama Shaw (Helen Mirren), and even the boys from Tokyo Drift: Sean (Lucas Black), and Twinkie (Lil Bow Wow). But of course what they showed in the trailer and what everyone was waiting for was the unbelievable and inexplicable return of Han. Sure, they explain it away quickly but man is Sung Kang just not the coolest dude in the room right away. All of these actors can play these characters in their sleep right now, so in that sense you do feel like you are in their world. Everything else though just takes you right out of it.
Stock Watch
Stock Down – Fast and Furious Franchise
To be honest ever since Paul Walker's tragic passing, and the perfect ending of Furious 7, this series has never been the same. There just is not that push pull energy that Brian and Dom had and it is a gaping hole missing in the last 3 movies. I know they are going to make more of these and they are only going to get bigger and probably dumber, so I guess all we can do is ride it out and enjoy what we can.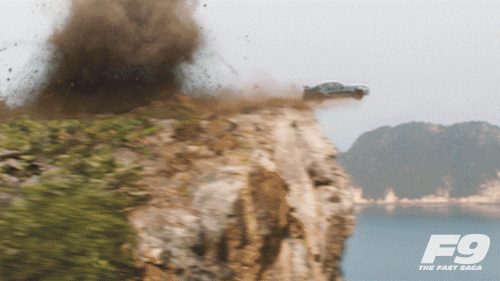 *A couple other tidbits
Cardi B and Francis Ngannou both cameos were pretty hilarious.
Magnets just absolutely do not work like they do in this movie.
They show this in the trailer but it has to be mentioned, they go to freaking OUTER SPACE in a Pontiac Fiero.
That mid credits scene was pretty fire.
Look, I am not the biggest F&F guy and I know the soap opera nonsense is part of the gig. But this is just not a good movie. It is so nonsensical and the script is so bad that it is hard to watch at points. It is not the worst of the franchise but clearly this story has seen better days.
Juice Rating:
*You can find my 2021 Movie Rankings here.
*You can find my Fast & Furious Rankings here.
*You can find all of my Movie Ratings here.
*You can follow my Letterboxd account here.