*Not much to spoil here…
IMDB Synopsis
In Washington Heights, N.Y., the scent of warm coffee hangs in the air just outside of the 181st St. subway stop, where a kaleidoscope of dreams rallies a vibrant and tight-knit community. At the intersection of it all is a likable and magnetic bodega owner who hopes, imagines and sings about a better life.
"DR, PR, We are not stoppin'"
This is a post that is honestly hard for me to write, because In The Heights has meant so much to me for so long. I first saw the show on Broadway (big Broadway guy) in 2009 (BEFORE HAMILTON) and fell immediately in love with it. I listened to the soundtrack every day on my way to High School and memorized every word. Something about the idea of community and positivity just seeped into my bloodstream. I then saw the show in 2012 in Tucson when it was touring, and seeing it with a primarily Latino audience really gave me a whole new perspective on the show. I got to see how the community in the show and the audience mirrored each other and made me love it even more. So of course when a movie was announced, even though we would not see Lin Manuel reprising the lead role, the hype was through the roof.
I got a chance to see this in a theater a couple weeks ago and I was blown away. John M. Chu (Crazy Rich Asians) brought the world of Washington Heights to life in a way I never could have imagined. The aspect that really impressed me was that each scene really stood on its own and had a unique design to it. When you see a movie musical like say The Producers adaptation you may be disappointed because they did not change a word from the stage show. With this they realized it's been 12 years and things can be more modern and updated. So even if you have seen the show it is great to see this version is so evolved to our times.
The base of the story still follows the two relationships of Usnavi (Anthony Ramos) and Vanessa (Melissa Barrera), and Benny (Corey Hawkins) and Nina (Leslie Grace). But around them is just the love of the community they love so dearly. Its easy to relate to their situation because it is like when you leave for college or something and you are just hanging onto your family and friends for dear life. Most of us just cannot sing and dance like these actors can.
Stock Watch
Stock Up – Anthony Ramos
We got a Rocket ship alert folks. Sure he was great in Hamilton, and was fun in A Star is Born, but this is the role. This is a star making performance if I have ever seen one. The easy charisma, the incredible voice, and yes that idea that you just cannot take your eyes off him. Obviously, stepping into the shoes of Lin's
Tony Winning role was never going to be easy, but he makes it look effortless.
Stock Up – John M. Chu
As I said above he directed the hell out of the movie. The 96,000, When the Sun Goes Down, and the opening of the movie are all stunning sequences. And for sure got him his next job which is the classic tale of Wicked. I have been nervous for a long time for that adaptation but it seems like it is in the right hands after seeing this movie.
Stock Up – Melissa Barrera and Leslie Grace
Both of these incredible women really were making their mainstream debuts for these roles. And both blew me away with their incredible singing and screen presence. I look forward to seeing both of them a lot more in the near future on screen and maybe at the Grammy's.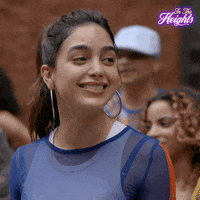 Stock Up – Corey Hawkins
This guy just will not stop surprising me. He shot to fame in Straight Outta Compton and has been flying ever since. His speech in BlackKklansman is the highlight of that movie for me and now he's singing and dancing. This guy can do it all and will have the pick of whatever he wants moving forward.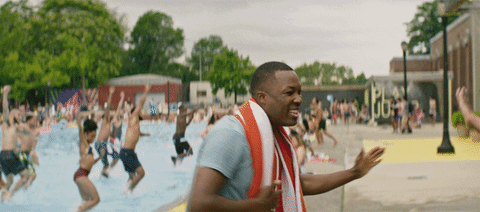 *A couple other tidbits
Olga Merediz of course picked up right where she left off on Broadway with her role as Abuela Claudia. She is the heart of the story and really gets a chance to shine here.
Jimmy Smits!
I loved the younger version of Sonny, it gave Usnavi a mentorship role that added to the story.
How about Daphne Rubin-Vega as Daniela, great to see her back doing roles like this again.
Of course, Hamilton is what LMM will forever be known for (for good reason), but In The Heights is his story about his home. He grew up in Washington Heights and to see it brought to life in this way is a testament to his genius. I love this story and yes I am a little biased, but this is the best movie I have seen so far this year. Please check it out in a theater if you can, because it is special.
Juice Rating:
*You can find my 2021 Movie Rankings here.
*You can find all of my Movie Ratings here.
*You can follow my Letterboxd account here.