Okay Juicers, so I am doing this 30 day Film Challenge that should really give my thoughts and emotions an interesting time during the next month of quarantine. For day 13 I was asked to watch a film that put me in deep thoughts. That movie for me has been Spike Lee's BlacKkKlansman, because I have been thinking about it for two years now since I saw it the first time.
*This is a true story
IMDB Synopsis
Ron Stallworth is the first African-American detective to serve in the Colorado Springs Police Department. Determined to make a name for himself, Stallworth bravely sets out on a dangerous mission: infiltrate and expose the Ku Klux Klan. The detective soon recruits a more seasoned colleague, Flip Zimmerman, into the undercover investigation of a lifetime. Together, they team up to take down the extremist hate group as the organization aims to sanitize its rhetoric to appeal to the mainstream.
When you sit down to watch a Spike Lee Joint you know you are about to watch a powerful and extremely well made movie. Do the Right Thing, Malcolm X, He Got Game, and countless other movies he has made are evidence of his importance to the history of cinema. However, he had been denied an Oscar for a long time for one reason or another. Finally he won for this incredible script of BlacKkKlansman and when I think about it, it makes sense that it would be for a movie like this.
This story puts me deep in my thoughts for numerous reasons. But the main one is the shocking parallels between things happening back in the early 70's and events going on now. Nothing more prominent than the Charlottesville riots depicted at the end of the movie. When that cuts in it just makes your jaw hit the ground and makes you rethink the entire movie.
The movie itself is based on a true undercover police story with Ron Stallworth (John David Washington) and Flip Zimmerman (Adam Driver) infiltrating the Colorado Springs chapter of the KKK. They do this by a series of phone calls and meetings with the group and start an investigation that leads all the way to the head of the KKK David Duke (Topher Grace). Along the way though they both learn a lot about themselves and what they both should be fighting for.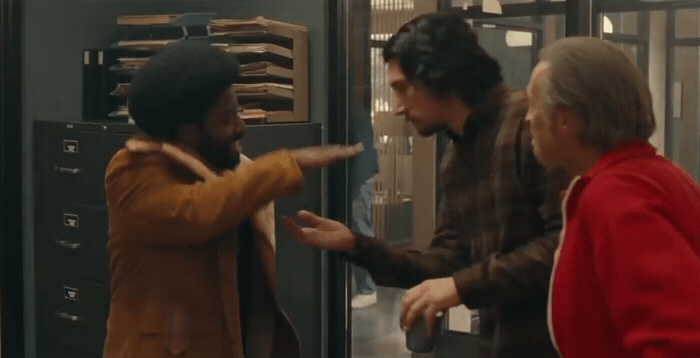 With such a heavy story I am happy as well that Spike decided to throw in some comedic moments as well as the intense slur ridden Klan meetings. As a viewer it makes the guys feel a little more human and makes it easier to connect with them. Well, also having Washington and Driver as the incredible lead character helps us connect as well.
Some other standouts include Laura Harrier as Stallworth's radical girlfriend Patrice, Jasper Pääkkönen as one of the Klan members, and of course Corey Hawkins who shows up in one scene as Kwame Ture and gives a speech that is hard to forget. It is an extremely powerful performance, in very limited screen time.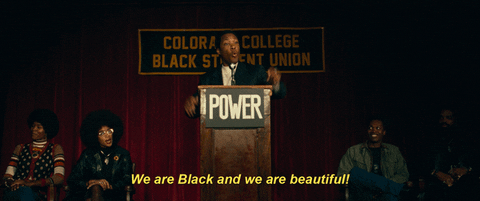 *A couple other tidbits
One thing I really noticed this time around was the incredible score by Terence Blanchard, it is a massive part of the emotion around this movie.
Paul Walter Houser (Richard Jewell) is so damn funny in a disgusting role as a Klansman.
Topher Grace is great as David Duke even though again the guy is a despicable human.
Seeing Denzel's son star in a Spike Lee movie is so awesome.
The Birth of a Nation scene is just brutal.
I will note Spike has been criticized on this movie for stretching the truth a bit.
BlacKkKlansman was easily the most powerful movie I saw in 2018 and it still hits me to my core a couple years later. This is a really important and timely movie and I think it is really sad that it seems we are repeating mistakes that we have made in the past. This story is all about anti hate and acceptance and I think that is a really important message.
Juice Rating:
*You can find all of my Movie Ratings here.
*You can follow my Letterboxd account here.