*I mean its Scooby-Doo
IMDB Synopsis
With hundreds of cases solved and adventures shared, Scooby and the gang face their biggest, most challenging mystery ever — a plot to unleash the ghost dog Cerberus upon the world. As they race to stop this global dog-pocalypse, the gang discovers that Scooby has a secret legacy and an epic destiny greater than anyone could have imagined.
"I guess our new movie is an Origin Story, I want the Rock to play me"
As you Juicers know I have a huge love for animation and what it can do for people. That love came from growing up and falling asleep to Hanna-Barbera cartoons. Everything from The Flintstones, to the Jetsons, to Yogi Bear, and of course Scooby-Doo shaped my life so much. To the point that to this day the background of my computer is just a Hanna-Barbera collage.
So the new movies Scoob! (I always hate movies throwing punctuation in the title) is a big deal for me, however it came with a couple thoughts. My first thought was excitement, because Director Tony Cervone has been with Warner Bros. forever even being a lead animator on Space Jam. So he clearly has love for this property. My second thought though looking at the cast was nervous because of two major replacements. They decided not to use some of the longtime Scooby voices Matthew Lillard for Shaggy and Grey DeLisle for Daphne to be in this. Now I'll get more into this below, but spoiler alert, it was not the correct decision. Okay okay that is enough of my ranting lets get to the ratings shall we?
Animation – B+
Warner Animation Group has done some good stuff, of course the Lego Movies, but also Smallfoot, Storks, and now they are trying to start of a new Hanna-Barbera universe. So they clearly are not on Pixar or DreamWorks level, but they are trying to make some moves.
Scoob! at times looks spectacular and the characters all look very distinct and well done. However, the overall feel of it just looks overly fake to me. It's almost like by making it so realistic it makes it less appealing for me. I just did not get that overwhelming feeling I get when I see Onward or even something like Spies in Disguise.
Voice Cast – D+
This is where it starts to get contentious. I like Will Forte a lot, but his Shaggy really did not do it for me. None of the other Mystery Teammates really did either, Zac Efron was bland as Fred, and Gina Rodriguez and Amanda Seyfreid were just unmemorable as Daphne and Velma Respectively. I liked Mark Wahlberg as the Falcon and of course it was amazing to have long time Scooby veteran Frank Welker as Scooby, but other than that a lot of these big names did not really bring their own stamp to these iconic characters.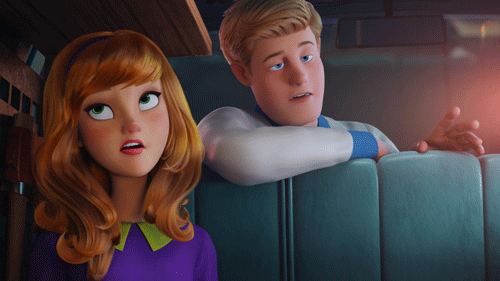 Music – D
There is really not a ton of music as far as I remember in this movie and there was not really a score to get excited about. There is an album that came out with this movie and I do really like the song On Me by Thomas Rhett and Kane Brown but I do not even know if it is in the movie. For me a huge part of Animation is music and most of the times original music and this just did not have it.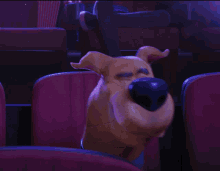 Story – C-
The best parts of this movie are clearly when the team is all together and that makes sense because the primary theme of the movie is friendship. That stinks because for the most part they keep the team apart for some inexplicable reason. They decided to take Shaggy and Scooby and put them in a quasi superhero movie while the rest of the team was just looking for them. For me a lot of it just did not feel like Scooby-Doo at all but a story that people felt was relevant using characters we all know. Usually that is something that would be interesting to me but the way they did it lost the essence of the product itself, which is the team. Which is why the best and most memorable part of this movie is the origin story as kids at the beginning. Other than that the Dick Dastardly villain and the rest of the Hanna-Barbera characters just felt like they were there to set up some larger universe (which they announced they are doing) and not to be in this movie. Which is why the big and out of place climax fell flat for me.
*A couple other tidbits
This was pushed to VOD after the success of Trolls World Tour in that experiment.
Shockingly this is Mark Wahlbergs first animated movie.
Ken Jeong was kinda funny as Dynomutt.
The opening credits were very cool.
As I said I was excited for this movie and the idea of a Hanna-Barbera universe, however this movie did not feel like a Scooby-Doo movie. It felt like an overstuffed Hanna-Barbera jumble that needed to breathe a little bit. The way Marvel built their universe was focusing on specific characters and not the universe as a whole. I wish this was more of just the Mystery Team and not some bad animated Avengers.
Juice Rating:
*You can find my 2020 Rankings here.
*You can find all of my Movie Ratings here.
*You can follow my Letterboxd account here.