Everyone has that one random recurring character that stands out above all the rest. On the flip side, there's also the character whose very presence makes you want to throw your remote through the screen. Let's look back at some of the best (and worst) side and recurring characters. As an example, characters like Andy Bernard who became series regulars do not count.
The Worst:
Sherry Palmer (24) — The first lady of arguably the best presidential character in TV history may come as a suprise to most of you but let me tell you why Sherry Palmer (Penny Johnson Gerald) is the worst. She is introduced as a supportive wife of the then-Senator but quickly shows her true colors. Throughout day one she quickly begins fighting with and outright defying her husband. She then goes so far as to participate in a nuclear bomb conspiracy to upend her husband's presidency. Not cool Sherry.
King Joffrey (GoT) — Though I was never a GoT fan, I sure heard a lot about how much this guy sucks. I guess he killed a lot of people that the fans liked? Anyway, he makes the list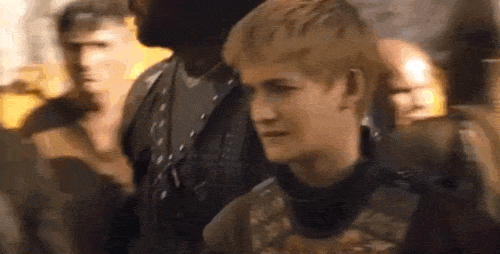 Jack Barker (Silicon Valley) — Played by the legendary Stephen Tobolowsky, Jack Barker joined the show as the new CEO in season 3 to give the boys some veteran leadership as they continued their quest to make Pied Piper a reality. His old school use of metaphors and "motivational" gimmicks didn't quite land for the crew.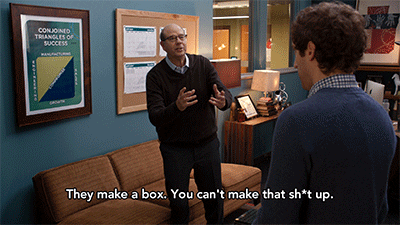 Nikki & Paolo (Lost) — What a waste of three episodes these two were. Shoehorned into the middle seasons of the series, these two show up out of nowhere, with no tie in to the rest of the survivers and are killed off just as quickly. It just goes to show how many issues that writers room had while producing this show.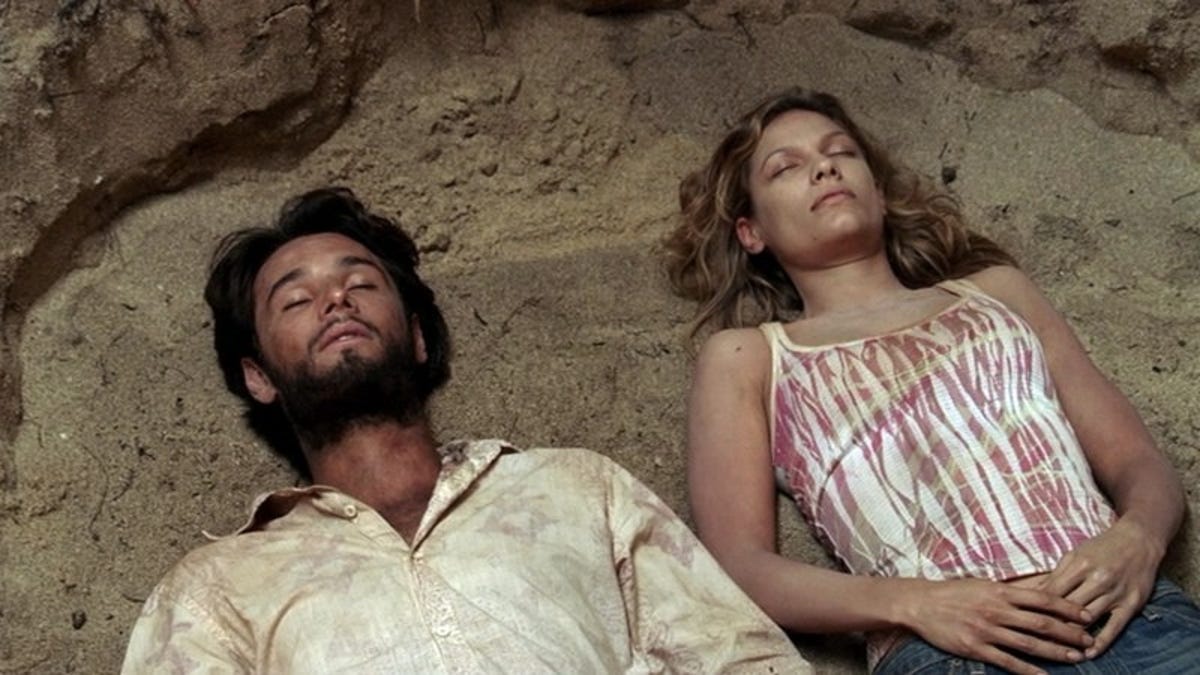 Bevers (Broad City) — This may be contentious because he is so darn funny in the show. But if we are talking the worst people, he fits the bill to a T. The boyfriend of Abby's absentee roommate constantly leaves messes in the apt, eats her food, and walks around but naked all day. While he does drop some sage advice her eor there, that won't make up for the toilets he clogs.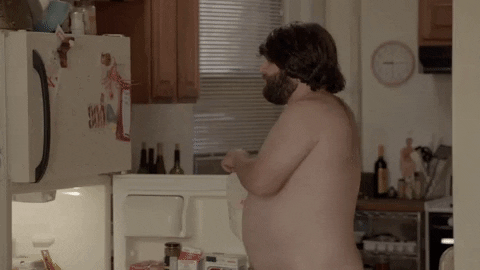 Nellie Bertram (The Office) — She basically took over in the final two seasons. Always around but really never found an appropriate place in the cast. She was way too over the top with her actions and for that reason, she's the worst
Starburns (Community) — His schtick was good for the pilot episode but thats about it.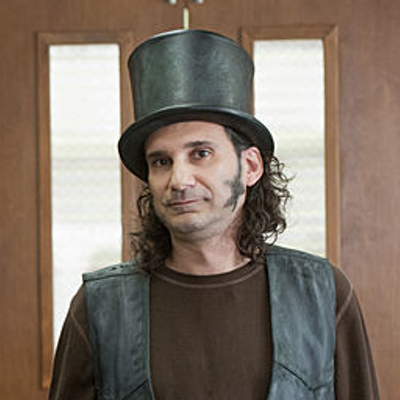 Barb (Stranger Things) — She is not worthy of your praise!!! For all the folks who were yelling justice for Barb after season one, please tell me why she deserves any of it? Sure, she can drink a beer but we didn't have nearly enough time with her in season one to garner this sort of cult following. Next, please.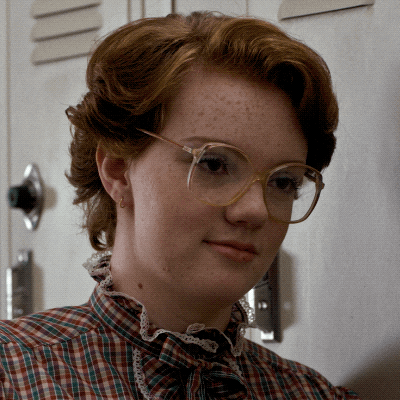 The Best:
Rafi (The League) — Jason Mantzoukas really planted his flag as the wild card/crazy eyes guy with this role in the fantasy football focused comedy. With classic lines such as, "Pocket dogs, always got a hot dog in my pocket." or "Buddy, I don't know who you are, but you're about to get Chlamydia." Rafi has cemented himself in the wild card hall of fame. You never knew what you were going to get and that's what made him great.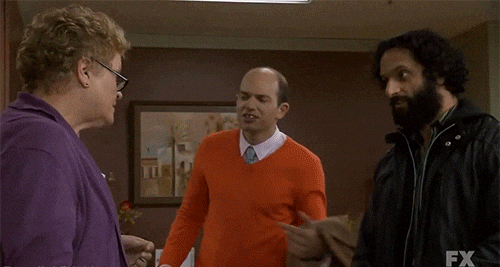 Leon Black ( Curb your Enthusiasm) JB Smoove was the best bud that Larry David never knew he needed. After getting displaced from his home after Hurricane Katrina, Leon and his family move in with Larry for what seemed to be a short one season bit. He was so well liked that he became a constant recurring character who still apears in almost every episode. No matter what Larry needs done, Leon is there to lend a hand, yelling, "We're gonna _______________, muthaf***cker."
Russ Hanneman (Silicon Valley) — What do you get when you give a Chad 1 billion dollars? You get Russ. An almost charactiture of Napster founder Sean Parker, Russ is one the first investors in Pied Piper and almost upends their whole operation with a bottle of his own bottle of Tres Commas tequila. This guy fucks, right?
Woody the Coroner (Psych) Being a coroner in a TV show requires you to be a bit out there and that's exactly how Kurt Fuller plays it. Woody is always happy to have Shawn and Gus down in his office because his usual officemates arent much for chatting. (Classic coroner joke there)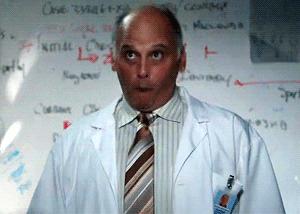 Jean Ralphio Saperstein (Parks & Rec) — Played by Ben Schwartz, Jean Ralphio is a good pal of Tom Haverford and a general charicature of a spoiled kid gone wrong. His habit of singing the end of his sentences and various ploys with tom and his sister put's him on par with Rafi for wildcard status. Also, Check out his new Netflix specials with Thomas Middleditch, they are incredible.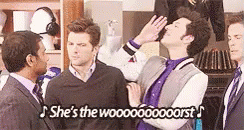 Leonard (Community) — at 95 years old, Richard Erdman is one of the oldest actors I've seen still working. His stint on Community started small, but continued to grow along with his popularity throughout the series.
The Twins (Breaking Bad) — Though we never learn their names, these silent killers in their snappy silver suits always knew how to leave us on the edge of our seats. Their parking lot battle with Hank was incredible and even when smushed by a car, they stayed emotionless.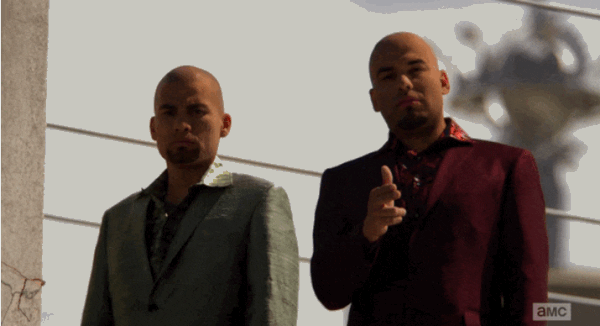 Honorable mentions —
Worst: Jeremy Jamm (Parks & Rec), Kim Bauer (24), Janice Soprano (The Sopranos), Jerry (Rick and Morty)
Best: Rickety Cricket (Always Sunny in Philidelphia), Barry Zuckercorn/Bob Loblaw (Arrested Development), Badger (Breaking Bad), Perd Hapley (Parks & Rec)