Well…. we made it folks. 2020 has been a heck of a year for all of us. I for one, am ready to wave goodbye to 2020 and ring in 2021 with a full slate of new shows and hopefully a return to normalcy.
Before we can move on, let's remenisce on the good that 2020 brought us in TV. This isn't going to be some stale top ten list that you can get anywhere else. We're going to dive in head first, swim around, and maybe even roll around in the mud to really understand the good, the bad, and the wtf moments that the small screen brought us over the last 12 months.
How can a year feel simultaneously so long but also so quick? I mean, Pilot Pete's season of the Bachelor aired in March and it feels like we've seen 4 or 5 seasons since. The penultimate season of Better Call Saul aired in February. Those feel like ancient times, right?
To be fair, as we get older, our perception of time passing tends to shift. But still… 2020 flew by. Let's start with the good.
My Top New Shows of 2020 (in no particular order)
Dave – If you had told me in 2015 that Lil Dicky, the comedic rapper who rose to fame with goofy, albeit, catchy rap songs like Ex-Girlfriend and Professional Rapper, would have his own show in 2020, I'd call you a liar. If you followed up that comment by telling me it was one of the most popular comedy shows of the year, I'd laugh you out of the room. Dispite the odds, the dude did the damn thing and brought the heat with his debut season. Full review here. The show takes us through a semi-fictionalized version of Lil Dicky's life as an aspiring rapper. It's got laughs, it's got heart (will be a recurring theme here), and it got renewed for a second season so get hyped for more Gata gander in the new year.
Queens Gambit – Anya Taylor-Joy has taken the world by storm over the last few years. (Emma, New Mutants, Split) She shines in Netflix's hit limited series as Beth Harmon, chess prodigy orphan with a bit of a drug problem. Based on the book of the same name, the story tracks her over the course of 15ish years. Starting from her days in the orphanage learning the game of Chess from the Janitor (played by all time That Guy Bill Camp), to her early 20's challenging the worlds best on the biggest stages. TL;DR It's a great show with great performances from all involved. Also of note, we were gifted a number of hilarious memes like the one below highlighting the difference in eye spacing from our two co stars:
Lovecraft Country – Jordan Peele has come a long way from his days as Tyroil Smoochie-Wallace these last few years eh? He teamed up with J.J Abrams to produce this HBO Series and by gosh did they make some magic or what! The series was influenced by the Horror novels written by H.P Lovecraft. Peele and Abrams definitely leave their influences on it as well as we follow our core cast led by Jonathan Majors (Da 5 Bloods) Jurnee Smollet (Birds of Prey) and Courtney B. Vance ( People vs. OJ, Office Christmas Party, The Photograph) as they try and track down his missing father in "Lovecraft Country", the fictional area of the US where the stories take place. The bulk of the story takes place in the 1950s Jim Crow era America where Peele can really flex his chops in exploring racial themes. What I love most about this show is how it meanders through a loose plot line while taking semi-self contained adventures in each episode. What I was not expecting was how central the fantasy/sci-fi themes would be to the story. For some, that might take away from the story, for us more sophisticated viewers, it elevated this show to my favorite of 2020. Watch out for episode 8, Jig a Boo, there is some serious nightmare fuel in that episode.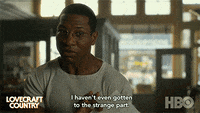 Ted Lasso – I've said all I can possibly say about how incredible this show turned out. Read my no spoiler review here, then follow that up with my best moments review, here. Jason Sudeikis kicks the most ass as the irrationally optimistic football turned futbal coach. Remember when I said that Dave had heart? Well so does Ted Lasso. It's so refreshing to see shows that go beyond the comedy to truly explore depth of character.
The Undoing – Nicole Kidman, Hugh Grant, high society New York power couple, a secret affair, a murder??? The Undoing was a quick hitting mini-series that seemed to split audiences on either side of the fence. Some loved it, others hated it, not many sat in the middle. As any mystery thriller does, each episode introduces a new possibility to the answer we all seek. The showrunners do a great job introducing these varying possibilities which all seem increasingly plausible to keep the audience guessing until the very last scene.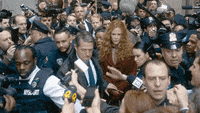 My Top Returning Shows of 2020
The Mandalorian – Dave Filoni and Jon Favreau followed up their stellar first season of this "Star Wars Western" with an even better sophomore season. (Insert Din Djarin putting the Star Wars franchise on his back meme here) Similar to Lovecraft, our titular character goes on some self contained adventures from episode to episode, all while trying to fulfill his quest to return Baby Yoda to a Jedi who can train him. Keep in mind, the series takes place well after the execution of Order 66 so there aren't many out there. Always on his heels is Giancarlo Esposito's (Breaking Bad, Better Call Saul) Moff Gideon, played to terrifying perfection. The guest stars and new additions to the cast this season delighted many a Star Wars fan and helped audiences connect the dots to where this series will sit in the Star Wars Universe. Rosario Dawson and Timothy Olyphant joined the cast for single episode arcs. Bill Burr and Ming-Na Wen returned as Mayfeld and Fennec Shand, respectively. Lastly, Temeura Morrison returns as the one and only Boba Fett to help out his fellow Mando later on in the season. There is one more cameo that I will not spoil as it ends the season so perfectly. Go watch.
Big Mouth – What happens when you let Nick Kroll, Jason Mantzoukas, and John Mulaney create an animated TV show about some vulgar pre-pubescent kids? You get a whole lotta fucked up imagry if we're being honest. Big Mouth's 4th season doesn't miss a beat as the boys head out to summer camp. (A right of passage for any jewish teen) If you haven't watched, the show centers on Nick and Andrew, 7th graders in Long island as they navigate middle school and puberty. This is just me talking but there is no show that illustrates puberty better than Big Mouth. The way they use outrageous animation to contextualize the kid's hormones as characters is perfect. The fourth season includes a scene about how to finger a girl using a dinosaur and castle as proxys. It's ingenious and hilarious and gross all at the same time.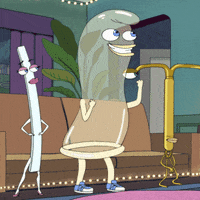 Better Call Saul – I've already reviewed it, you can find it here. Vince Gilligan is another master of his craft and to see this show continue to improve season after season is a testament to his abilities as a creator. We all wait in anticipation as the last season is set to air in 2021 and we can close the book on Slippin Jimmy/James McGill/Saul Goodman/Cinnibon Gene.
Schitt's Creek – It's so hard to see you go, but I love to watch you leave. There's no question they deserved to clean up at the Emmy's this year. This show flat out rocks. It's some of the funniest tv i've seen in quite a few years. Also, who doesn't love the Eyebrows? It's great to see a family affair crush it for 6 seasons and we will undoubtedly be seeing more from David and Eugene in the years to come.
Biggest Suprises from 2020 –
Kaley Cuoco in The Flight Attendant – Who knew that she could remove herself from her longstanding role as Penny on Big Bang to shine in the recent thriller series from HBO? My brother told me I had to watch it and I obliged. He did not disappoint me. The show is another fun mystery thriller as Party Girl Cassie, played by Cuoco, tries to solve the mystery of who killed the gorgeous man she had a one night stand with in Bankok. Also shoutout to Zosia Mamet who plays Cassies friend Annie, a lawyer who reluctantly opts to help.
How Quickly the world forgot about Tiger King, Love is Blind, Too Hot to Handle, & The Circle – People forget that Tiger King was the only thing we talked about for like a month after quarentine started. Carole Baskin turned her 10 minutes of fame into a spot on Dancing with the Stars and a solid gig with Cameo. (Shoutout Office alum Brian Baumgartner as their top earner this year!)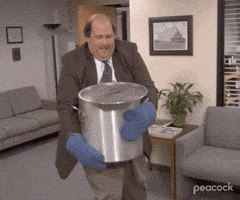 Seriously, it feels like it's been years since those shows all aired. As a semi-fan of the Bachelor, I watched those other dating shows just to see what was up. It's all the same, dramatic people being dramatic for the sake of being dramatic. It's not a dig per-se, but those shows are always what they are, guilty pleasures. I go in more depth on the appeal of dating reality TV here.
Biggest Disappointments from 2020
Away – Neflix spent a boatload of money on this space epic. At almost $6 Million per episode, it ranks as one of the most expensive shows ever produced by the streaming giant. As your resident space nerd, I eat these types of shows for breakfast, lunch, and dinner. I watched it, but something just wasn't right. Whenever you pick the first manned mission to Mars as your plot, you've got me hooked. Especially with a bloated budget like they had. Instead, they spent most of the time focusing on forced character drama with fellow crew members and those family members back home. It's the same issue that plagued The Midnight Sky, George Clooney's recent release.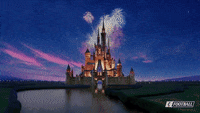 New Mutants – We don't have much to say about this one other than they probably should have delayed it again. It's too bad that they cannot find a way to continue the X-Men universe successfully.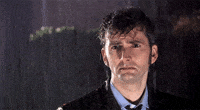 Space Force and Avenue 5 – Two more space centric series produced by Netflix and HBO, respectfully. Both bolstered by All Star casts and the potential for greatness. Space seems to be a common theme here. Unfortunately, both fell flat with forced jokes and uninteresting characters all packed tightly into 30 minute episodes. If you want good space content check out the following: Sunshine, Moon, or High Life. All available on streaming today. (Since you probably dont have big plans tonight)
Quibi – Maybe we don't need another streaming service…
My favorite Characters from 2020
Billy Butcher and Homelander (The Boys) – These two lead a wonderful cast in a truly remarkable series about the Corporatization of Super Heros. Billy is the Gritty anti-hero who leads the charge to stop the Supes. Homelander is the leader of the Seven and continues to make viewers cringe with his incredible acting. I mean…
Billy also has one of the most iconic lines in the show with this gem…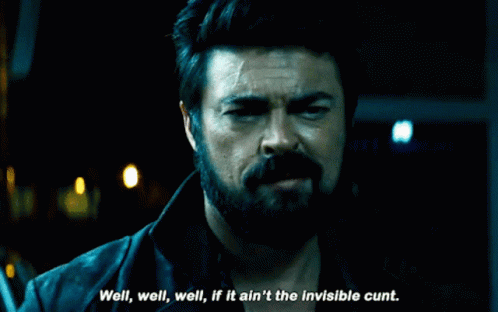 Looking foward to more of these two in season 3!
John Hamm (Curb your Enthusiasm) – It's John Hamm being John Hamm! The tenth season of Curb still keeps the hits coming and we get to see our beautiful boy join for a couple episodes as he preps for a role and wants to pick up Larry's mannerisms. It annoys Susie but it makes for some great episodes.
Meyer Offerman (Hunters) – The Legendary Al Pacino led the way in this underrated Amazon Prime series about a group of Jewish "bounty hunters" in the 70's who hunted Nazis that had found asylum in the US after the end of WW2. The guy goes all out for this role and reminded all of us tribesmen of their own portly Saba. (hebrew for Grandpa)
Season one left us with one hell of a cliffhanger so hold onto your hats for season two!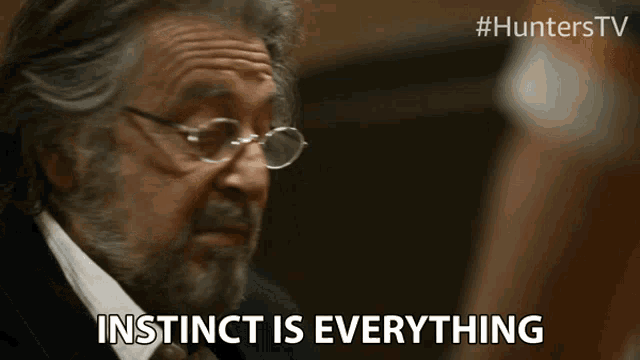 Klaus Hargreeves (The Umbrella Academy) – Robert Sheehan crushed his role in this quirky comic book adaptation. The show is based on a group of orphans all adopted by an eccentric millionaire because they have super human abilities. Klaus is able to speak with the dead and as we learn through the series,this weighs heavy on him due to his issues with drugs and alcohol. Though this is a very somber backstory, he provides quite a bit of comic relief and spends parts of season two leading a cult. (Time travel involved)
You can find both seasons on Netflix.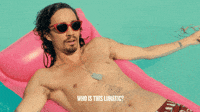 Wilson Wilson & Kevin Christie (Utopia) – I am sad to say that this show wasn't picked up for another season and I, for one, am quite upset about that. The show got a bit too real for peeps I guess with the pandemic and all that. The two that stuck out to me are Wilson and Christie, played by Desmin Borges and John Cusack, respectively. Wilson Wilson is one of the main protagonists, seeking to find the mysterious pages to a comic book that predicts every pandemic. He's your run of the mill conspiracy nerd, and he plays to perfection. More surpising though, was seeing John Cusack as Millionaire CEO, Christie who's company isn't quite what it seems. It's an off brand role for him and he does quite well. Also shoutout to Arby for worst haircut ever.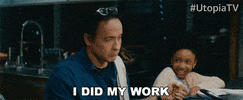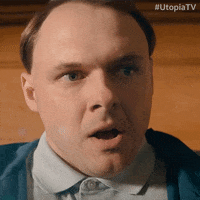 If I missed one of your favorite shows, leave a comment and tell me why it deserves to be up there. I'll probably tell you that you're wrong but hey… new year, new me.
Here's to a beautiful 2021…