Juiceland doesn't throw these words around lightly. Stop what you're doing at once, flip on Apple TV+, and tune to Ted Lasso. You won't be disappointed, I promise.
Jason Sudeikis is a Southern college football coach who takes his talents across the pond to take over a struggling Futbol team. Does he have the chops to lead a team with no knowledge of the game? After seeing the trailer, they had my interest. How-evah…
After watching the show, they have my attention.
Bill Laurence and Jason Sudeikis absolutely brought the heat. How can I best set the stage without getting into spoilers? This show is very, very funny while also making your heart feel warm and fuzzy.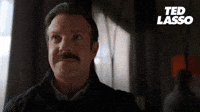 Sudeikis and crew could have easily stuck to the basics and created a fairly funny half-hour show. What they did instead blew the top off the place. It comes down to one thing for me, character depth. A simple concept, but often executed poorly. Isn't it the worst when a show drags out a side plot or tertiary storyline that all the fans hate? I'm talking Jim and Pam's marital issues in The Office, Debra Morgan falling in love with her (adopted) brother Dexter, everything after season two of 13 Reasons Why.
Ted Lasso is simply able to draw us into these character's lives without spending entire episodes dedicated to background and exposition. The close proximity between our characters (they spend the bulk of their time in or around the AFC Richmond stadium) allows for organic relationships to blossom without feeling like a soap opera.
Seriously, each week I am suprised with how much each role grows. Ted Lasso's undying optimism and wit, Rebecca and her quest to step out from her ex-husband's shadow, even Keeley has outgrown her place as model/girlfriend of Superstar Jamie Tartt. It just works.
So anyway, as Ted joins his new team in England, we find out that Rebecca (the owner of the team) made this curious move in order to ruin the team. (Her ex husband will be furious) What she can't count on is that our boy Ted Lasso ain't gonna roll over too easy. He gets to work with his right hand man, Coach Beard (sneaky best character on the show), to bring this team together.
While I won't share the best moments until after you watch the show, I can provide my to-date power rankings:
Everyone on the show but Higgins
Higgins
Be on the lookout for an in-depth recap (with spoilers) soon where we can really get down, Diamond Dog style. So go watch the damn show. If you need a login, I hear Aj's password is still Chicken.
Until next time… Futbol is life!!!!