Have you ever fantasized about your life being the basis of a TV show or movie? The thought has crossed my mind. However, since my life is hardly interesting, a fantasy is all it will ever be. Dave Burd had the same thought but went ahead and made the damn show.
Better known by his stage name, Lil Dicky, Burd took his talents from SoundCloud and YouTube to the silver screen this spring with the surprisingly well-made Dave. The show follows Dave, who is convinced he will be one of the best rappers of all time. Each episode takes a look at the different parts of his life that led him to be the man that he has become today.
For those who don't know, Lil Dicky broke onto the scene in 2013 with a number of comedic raps centered on his 'lil dicky' and life as a suburban Jewish kid. (Finally, someone who gets me!) He has since continued to rise the ranks with "Save Dat Money" and "Earth" over the past couple years. While many rappers that rely on comedy in their music come and go all the time, Burd is an incredibly talented lyricist and seems to have the acting chops to keep him around for the long haul.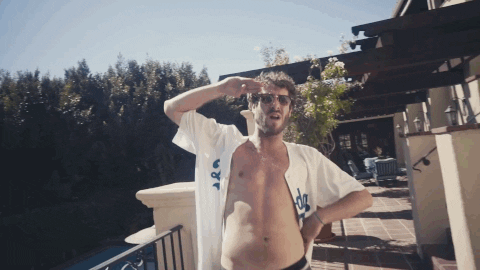 Back to the show…
If you aren't a fan of Dicky already, this likely won't be your cup of tea, but I'm writing this for the initiated. Over the course of 9 episodes we get a peek into the life of Dave Burd and what caused him to think he is the greatest rapper alive. The first episode gives us a glimpse at Dave's struggles to be taken seriously by the rap community. I mean, when you look at him and hear him speak, you understand why he gets laughed out of the studio and onto a snack run. Yet his freestyle to end the episode shows us, and YG, that he is ready to get to work.
Speaking of YG, there are quite a few great cameos throughout the season. We see Macklemore take over a show where Dave is hesitant to perform. Dave turns down a smoke sesh with Future and Trippie Red leaves Els (Dave's childhood friend and producer, played by Taco Bennet of Odd Future) a babysitting gig. Lastly the Beibs himself invites Dave to a party leaving him to wonder if he can invite his friends (We've all been there). He does, however, win an argument with Kourtney Kardashian while there.
While the show gives us plenty of the funny, it also takes some serious turns during episode 5 and during the finale. Lil Dicky's real-life hype man GaTA, who plays himself on the show, gets a chance to highlight his struggles with Bipolar disorder. It is a good reminder that those types of mental issues can be closer to home than we realize. Similarly, he highlights his struggles between his relationship and his career in the finale. His girlfriend (played by Taylor Misiak) is upset that he cannot take one weekend to be present with her and spends the whole time interacting with fans and mulling over a record deal.
There is a balance that comes with making a show based on your actual life. How much of the "real" do you actually share? If we ever questioned how confident Dave Burd really is, look at episode three, Hypospadias. It was quite the uncomfortable watch as Dave shares his issues with his own body. He opens up about his medical condition that requires him to ensure his girlfriend never sees his dick, he discusses his affinity for Milking Table porn, and gets personal with his masturbation setup. The last shot of this episode literally caused me to spit take in laughter. It also set up a great callback in episode 8. (Shoutout Andrew Santino for the amazing work as friend/manager Mike)
While it won't ever be widely regarded as a hit show, Dave has struck a chord with Lil Dicky fans and does he really need to do anything more? It's got some great laughs, tons of relatable content and conundrums, and some heart all tied up in a neat little FX show. If you're now asking, what the hell a Milking Table is, check out Dave on Hulu!
Until next time…