*A few little ones…
IMDB Synopsis
Joe is a middle-school band teacher whose life hasn't quite gone the way he expected. His true passion is jazz — and he's good. But when he travels to another realm to help someone find their passion, he soon discovers what it means to have soul.
"Is all this living really worth dying for?"
I know Juicers you are sick of me continuing to lavish praise on Pixar, but c'mon they continue to just put out great story after great story. Even their most recent efforts Toy Story 4 and Onward show they continue to come with original stories while also adding chapters to historic franchises.
The newest member of the Pixar canon is Soul, a story from the great Pete Docter (Up, Inside Out) exploring our inner Soul and where they come from and where they finish. Enough talk though let's get to the ratings!
Animation – A
As always Pixar is top notch when it comes to Animation. What I noticed in this one was the incredible lighting they had in scenes like the Barbershop and the front Porch scenes. Both felt so real because of the way the trees and shadows were animated and I really have not seen anything like that. Also the switches between the real world and the Soul world were so seamless and made it feel like a quasi sequel to Inside Out.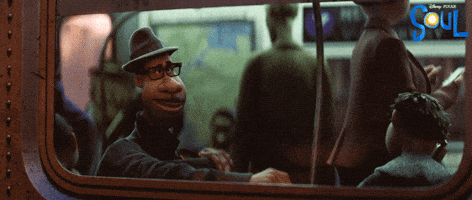 Voice Cast – A-
This was a fantastic cast of diverse actors who all bring something different to the table. Jamie Foxx was born to play Joe, he has to basically play three different roles and he nails it each time. Tina Fey as Soul 22 forms an instant connection with him and they have incredible chemistry even if it is only voice chemistry. Also shout out the ageless queen Angela Bassett, you could feel her coming through the screen as Dorothea Williams.
Music – B+
Trent Reznor and Atticus Ross already came out with one score this year that will probably be Oscar nominated and that is Mank. They again nail the aesthetic with the jazz music throughout, however the way they weave in the jazz with a traditional Pixar score is where the true power shines. There was not necessarily an original song that blew me away, but the performance near the climax is absolutely perfect. This easily is a top ten Pixar score, and I do not say that lightly.
Story – A
The reason I say this was a quasi sequel to Inside Out is because this is another Pixar movie that explores the inner workings of our bodies and minds. After Joe mistakenly dies, he gets trapped in the Soul world and has to learn about himself in order to find his way back. The story has so many themes: Empathy, Overcoming Depression, Finding your own Path, and of course Love. All these themes are weaved together seamlessly creating another Pixar masterpiece. I love movies like Onward and Brave as well, but these are the movies that maintain Pixar's reputation. The only thing I kept thinking to myself was that this was their least kid friendly movie that they have ever made. It is an adult movie that is animated and for me I love that. I also think the main thing I took from this story is about being satisfied with things that you have and embracing the things you love.
*A couple other tidbits
The Knicks joke was top notch.
Every movie I watch recently has a cold open, it is clearly a trend filmmakers are enjoying right now.
Learning about all of 22's old mentors was very funny.
The Barbershop scene is one of the best scenes of the entire year, and harkened back to a great season 1 Boy Meets World Episode (Class Preunion).
I know its shocking Juicers, but Pixar put out another movie that is one of the best of it's respective year. I do not know how they continue to surprise us with creative, original, and empowering stories but they have the gift. This is a powerful and important story, and I am happy Disney made the decision to give us this movie on Disney+ so everyone can see this safely during the pandemic.
Juice Rating:
*You can find my 2020 Rankings here.
*You can find my Pixar Rankings here.
*You can find all of my Movie Ratings here.
*You can follow my Letterboxd account here.