*Not a ton to spoil here…
IMDB Synopsis
King Arthur's headstrong nephew embarks on a daring quest to confront the Green Knight, a mysterious giant who appears at Camelot. Risking his head, he sets off on an epic adventure to prove himself before his family and court.
"You rest your bones. I'll finish your quest for you."
The Green Knight is a movie we have been waiting for and anticipating for awhile. This was supposed to come out last year, but the pandemic delayed it and now, A24 is finally giving us a chance to see it. And yes I said A24, because it holds a very important equation in this movie. Because the marketing of this movie makes it seem like this will be some sweeping epic with many storylines. That is not the case here because this is a very A24, introspective movie.
David Lowery (Pete's Dragon) tells the story of Gawain, nephew of King Arthur, on his quest to find the Green Knight. After his original meeting with him (where he chops his damn head off), they must meet again a year later and this story really only takes place on that journey to find him. There are a few scenes that bookend the movie but other than that this is Dev Patel by himself on screen. He walks through the country and learns really more about himself than anything else. It is a semi Arthurian tale but just with a major twist on it.
This movie does have a bit of everything though. You get that fantasy element, the wonderful romance with Alicia Vikander's character, action, and a script that is trying to say something about the world. I think where it lacks for me a bit is just the pacing. It feels like it does drag a bit in spots and I really was just waiting for something else to happen. I know its artsy and everything looked fantastic, but I just could not escape the feeling of just wanting a little bit more.
Stock Watch
Stock Up – Dev Patel
I truly do not understand how he is not one of the biggest stars in the world by now. He broke out over a decade ago in Slumdog, and has consistently been great since. Even recently in a very underrated movie, Hotel Mumbai. Like I said above, he absolutely. carries this movie and I think he is in every scene of the whole movie. He could play James Bond at this point and I would think he was great.
Stock Neutral – Alicia Vikander
She is typically great in this and gets to play two roles! She is an Oscar winner though so this is not going to push her that much farther. She is though one of the top actors we have these days male or female.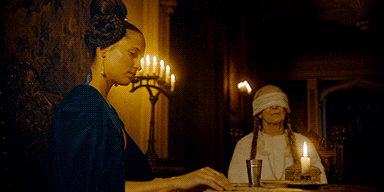 *A couple other tidbits
Joel Edgerton chewing scenery as per usual.
Barry Keoghan can you just relax my man?
The design of the Green Knight himself was awesome and felt super real.
Absolutely loved the ticking score.
Andrew Droz Palermo who did the Cinematography could be nominated for an Oscar for his work in my opinion.
This movie absolutely will not be for everybody, I will say that right off the jump. But, that does not mean it does not have merit. It is an extremely well shot and well acted story, I just think the story is not quite as compelling as I wanted it to be. Overall though, It was a very enjoyable theater experience.
Juice Rating:
*You can find my 2021 Movie Rankings here.
*You can find all of my Movie Ratings here.
*You can follow my Letterboxd account here.