*Its right there in the name folks
IMDB Synopsis
The government sends the most dangerous supervillains in the world — Bloodsport, Peacemaker, King Shark, Harley Quinn and others — to the remote, enemy-infused island of Corto Maltese. Armed with high-tech weapons, they trek through the dangerous jungle on a search-and-destroy mission, with only Col. Rick Flag on the ground to make them behave.
"I love the rain, it's like angels are splooging all over us!"
When DC released Suicide Squad in 2016 there was a lot of hype surrounding it. The trailers were fantastic and it had Will Smith, Margot Robbie, Viola Davis, and numerous others who were joining the DC Universe. The movie however was famously changed by the studio and David Ayer felt like it was ruined, which is why 5 years later we are getting this weird sequel/reboot of The Suicide Squad. This along with Birds of Prey honestly feel like a reimagining of everything DC has been doing up to this point. The Justice League saga never really found its footing with the mainstream audience, so it seems like the pivot to more standalone storytelling could be beneficial moving forward.
James Gunn famously shifted the narrative for Marvel as well when he made the original Guardians of the Galaxy movie. He took a bunch of characters no one really cared about and infused them with life and energy in order to make them some of the most beloved characters in the MCU. So they brought him in to basically do the same thing here with The Suicide Squad, except in an extremely R rated format. We have heads exploding, people being eaten, and humans being ripped apart all over the place throughout this movie, and mostly it is played for laughs. Which is the line that is toed all movie, how far can you take the violence when it is being used for comedy?
The story overall is a sidepiece because this whole movie is basically a showcase for the characters. Some returning fun ones like Captain Boomerang (Jai Courtney), Col. Rick Flagg (Joel Kinnaman), Harley Quinn (Margot Robbie), and Amanda Waller (Viola Davis). But really it was all about the new and wacky characters from the pages of DC comics. Characters including: The Detachable Kid (Nathan Fillion), Bloodsport (Idris Elba), King Shark (Sly Stallone), Javelin (Flula Borg), Weasel (Sean Gunn), Blackguard (Pete Davidson), Savant (Michael Rooker), Ratchatcher II (Daniela Melchior), Polka Dot Man (David Dastmalchian), and of course John Cena as Peacemaker. All of these characters get unique stories and all the characters who don't die immediately, get arcs that make you care about them. That is no small feat, especially in a 2 hour movie.
Like I said above though, the story itself was pretty forgettable. Even the villain which is a giant Starfish you only get to see for like 10 minutes at the end. So it really is just a study in how fun the characters can be individually and as a team. I do think the violence can get over the top to the point you almost feel numb to it. I do not know if that is a good or bad thing, but it is just an extremely graphic movie.
Stock Watch
Stock Up – John Cena
He has really found a comedy niche now and he has found something special with this character. So special that he is getting his own tv series on HBO Max. He was extremely funny and was like no character we have seen on screen before. I think he has a lot of potential moving forward in these movies and projects outside of DC as well.
Stock Neutral – Margot Robbie
She is basically synonymous with the character at this point having played her three different times. And she is already one of the biggest stars in the world. She has a ton of power right now in Hollywood and basically can do whatever she likes. Of course though, she gives a typically great performance here and leaves us always wanting more Harley.
Stock Up – James Gunn
He has now created great team up movies for both Marvel and DC and seems to be able to choose whatever he wants to do next. He has already filmed the Peacemaker series and now is working on Guardians 3 already. So, he is the busiest man in the comic book movie world right now.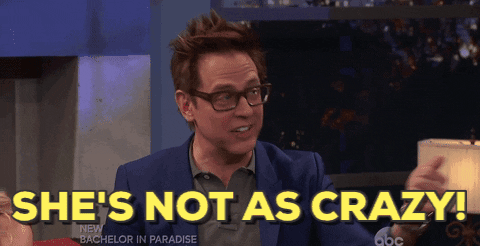 Stock Up – King Shark
Just put him in every DC movie and no one would complain.
Stock Up – Daniela Melchior
Who would have thought a woman who can control rats would be so compelling yet here we are. Melchior kind of came out of nowhere and basically stole the movie with her story and her power. I am a big fan of hers.
*A couple other tidbits
Idris Elba was great as Bloodsport, but I could not help but think the character was basically just Batman with the gadgets.
Really wanted more of TDK.
Is Harley Quinn enhanced somehow because she is a superhero at this point with her fighting skills.
Viola Davis, thank you for showing up for your 2 days of filming, personally I loved it.
Taika Waititi LOL
Comparing this to the 2016 movie is a low bar so clearly this is better than that movie. But, on its own I still think this is a very. fun movie with some incredibly memorable characters. At some points it feels like a parody movie of superheroes, but at least it does not take itself too seriously and lets all these great actors really have fun with the material. DC should do more stuff like this.
Juice Rating:
*You can find my 2021 Movie Rankings here.
*You can find my DCEU Rankings here.
*You can find all of my Movie Ratings here.
*You can follow my Letterboxd account here.