*I will not spoil anything major…
IMDB Synopsis
Long ago, in the fantasy world of Kumandra, humans and dragons lived together in harmony. However, when sinister monsters known as the Druun threatened the land, the dragons sacrificed themselves to save humanity. Now, 500 years later, those same monsters have returned, and it's up to a lone warrior to track down the last dragon and stop the Druun for good.
"Now to restore peace, I must find the Last Dragon. My name is Raya."
Disney Animation in recent years has been doing a lot of things to make up for years of problematic issues in their movies. We are seeing Polynesian Princesses like Moana, African American Princesses like Tiana, and now we have Raya to add to the long history of strong Disney Princesses.
Raya is a girl from the far east who is the daughter of the Chief (Princess in a sense) who has to learn what it takes to put the world back together. This is after a force that turns people to stone has made the people of this world come apart. No one trusts each other anymore and everyone is broken off into factions. We will discuss the themes below but for now lets just get right into the Apple Juice Animation Ratings for a Disney movie for the first time since Frozen II.
Animation – A
I mean what can you say? Disney is one of the best animation studios ever to exist and as always they are top notch. The world or should i say worlds they create throughout this story are pure magic and all very unique. Also it was very cool to see a lot of the characters grow up physically and emotionally throughout the story and that was reflected in the way they were animated. This movie may have the most fight scenes I have ever seen in a Disney Animated movie, and all looked fantastic. Lastly, I will mention the dragons looked spectacular and definitely distinguished themselves from How to Train Your Dragon.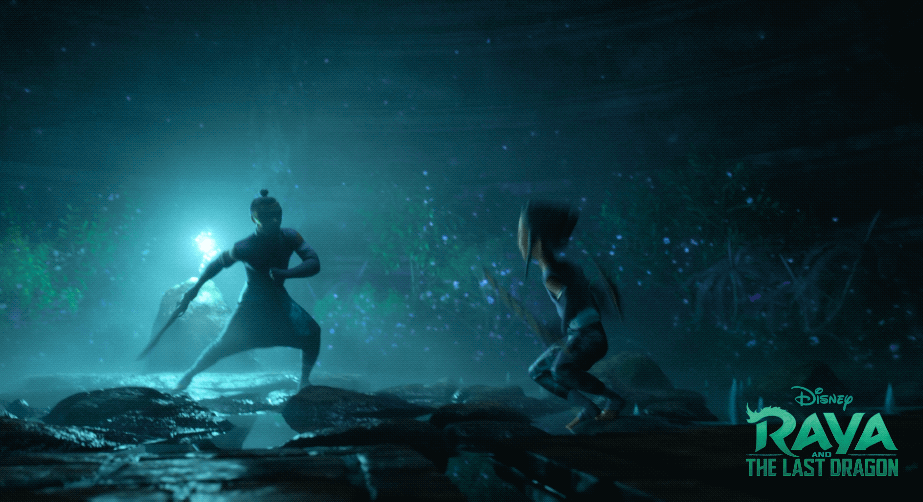 Voice Cast – B+
What an awesome assortment of Asian American Actors in this voice cast such as Awkwafina, Benedict Wong, Gemma Chan, Daniel Dae Kim, Sandra Oh and of course our star Kellie Marie-Tran (who is already a part of the Disney family). All of them do an awesome job but shout out to Awkwafina who was able to make a dragon smart, funny, heartwarming, and special all wrapped into one. The chemistry between her as Sisu and Marie-Tran as Raya was special. Oh and how can I forget Alan Tudyk, Disney Animations John Ratzenberger, who plays this Armadillo Pill Bug that harkened back to the great Disney side kicks of old.
Music – B
James Newton Howard's score was great because it was able to blend classic action rhythms, with that oriental/far east style of music. You felt very invested in the worlds not only because of the Animation but really because the music put you even deeper into them. Also Lead the Way is the credits song, and it is good because it is able to reiterate the themes of the movie while also being a good Disney bop.
Story – B
This is an absolutely beautiful story that is told over a period of 6 years. It is a story about adventure, friendship, fearlessness, and of course trust. The entire story thrives on the idea of different people coming together to trust each other. That is something that is eerily similar to the world we are living in where everything from politics, to who is the G.O.A.T MJ or Lebron, is so divided. The themes in this story really do resonate and show what people can do together and not apart. It is also just fun to watch Raya go to each of the different parts of the world, meet new friends, and have new experiences where she grows as a person and a leader as well.
*A couple other tidbits
I love the opening, its classic exposition dump but they do it in such a fun way you cannot be mad.
Indiana Jones vibes not only with the opening scene but the whole movie.
The idea of the dragons running on Water was special.
Raya and the Last Dragon immediately goes into the hierarchy of the Disney Animation Canon. When you go back and watch some of the 60's and 70's "classics" they can be tough to get through these days. What they are putting out now are movies that show incredible diversity while still giving us bad ass action and beautiful themes.
Juice Rating:
*You can find my 2021 Movie Rankings here.
*You can find my Disney Animation Rankings here.
*You can find all of my Movie Ratings here.
*You can follow my Letterboxd account here.