*They literally show the last shot of the movie in the trailer
IMDB Synopsis
A widowed, former basketball all-star lost family foundation in a struggle with addiction and attempts to comeback by becoming the coach of a disparate, ethnically mixed high school basketball team at his alma mater.
Ben Affleck has had a long and storied career. Not only has he been a leading man on screen for over 20 years, and because of that his relationship life off screen has been highly publicized. That came to the forefront recently during his public break up with Jennifer Garner and his subsequent checking in to a rehab facility. Now in the midst of battling for sobriety he decided to take a project that he feels is therapeutic, and that is the new movie The Way Back.
Directed by Gavin O'Connor (Miracle, Warrior) this is a story about Jack Cunningham (Affleck), a former high school superstar, who decides to take a job at his old high school as a coach in order to hopefully help to sober up. He is a raging alcoholic because of the death of a child and the subsequent break up with his wife. Coaching the team and getting to know all the different types of kids, he learns that maybe he can crawl his way back one step at a time.
The biggest idea I took away from this story is that this is not a Sports movie. It is a rehab movie with Basketball in it. The basketball stuff is fun and the characters are enjoyable, but being with him in the other part of his life is hard because you are just frustrated with the character. Every time it seems he turns a corner he relapses again and that pattern continues throughout the movie.
Stock Watch
Stock Neutral – Ben Affleck
I know he is coming back from rehab, but he also is coming off just playing Batman so his stock is not going anywhere. He was incredibly good though in this movie, probably channeling a lot of personal history to do so. His moments that he breaks down really remind you why he was such a good actor in the first place.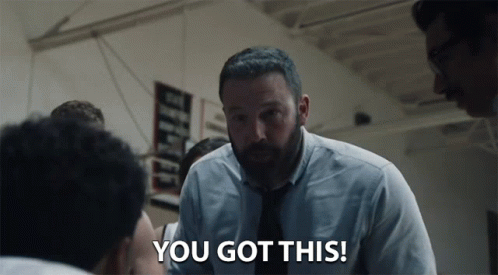 Who's That Guy/Gal?
Janina Gavankar –
*In hava nagila tone
SHIVA KAMINISOMA KANDARKRAMSHIVA KAMINISOMAKANDARKRAM
Janina the queen doing a ton of great work in this as Jack's ex wife. I think this could be a breakout role for her going forward.
Also shout out her character in Star Wars Battlefront II Iden Versio!
*A couple other tidbits
He does this beer move where he takes one and puts in it in the freezer, then when he gets it out he takes another from the fridge and puts it in the freezer. And he continues to do this. I do not understand it but I respect the hell out of it.
Melvin Gregg has now played a basketball player in High Flying Bird, American Vandal Season 2 (amazing) and now this. I would like to see him do something else now that I know he can play this part.
Who checks their iPhone for voicemails?
The Way Back is clearly a very personal story for Affleck and you can tell how hard every scene is for him. Gavin O'Connor does his best to make the story slick and watchable but I just thought everything was a little rushed. They either needed to focus more on the rehab or the basketball but neither felt like they got enough attention when the movie ended.
Juice Rating:
*You can find all of my Movie Ratings here.
*You can follow my Letterboxd account here.