*It's Romeo and Juliet…
IMDB Synopsis
Love at first sight strikes when young Tony spots Maria at a high school dance in 1957 New York City. Their burgeoning romance helps to fuel the fire between the warring Jets and Sharks — two rival gangs vying for control of the streets.
"Tonight, tonight, the world is full of light."
It is hard to start any review for a movie made by the GOAT Steven Spielberg. So I will just start with a hot take, Like Lebron, Like Tom Brady, Like Serena Williams, and numerous other legendary athletes, we rarely appreciate them in their time. No mater how many things these people accomplish there are always haters, and people who do not think they are as great as they truly are. Well enough of the nonsense, Steven Spielberg has been putting out the highest quality of movies for over 40 years and just delivered another masterpiece, while also diving into a genre that he has never attempted before. Honestly, what cant this guy do?
West Side Story is one of the most historic, movies/musicals given that the 1961 movie won Best Picture and the Music was written by Leonard Bernstein and Stephen Sondheim (read those names again). So to see another legend take this and decide to remake it was very interesting and exciting, seeing as the '61 movie has numerous issues that do not play well today. Namely Spielberg casted actual Hispanic actors this time, did not add subtitles for them, and gave Maria (Rachel Zegler) and even stronger story. Now, I do not think I need to even rehash the story because we all know Romeo & Juliet, and I do not even think a song refresher is in order because of how iconic each song is. What I would like to talk about mainly is what makes this adaptation look and sound so much better than pretty much anything released this year.
First, again like I talked about with Sir Ridley Scott, Spielberg continuously works with the same people behind the camera. That familiarity continues to bring excellence through collaboration. His main partner is cinematographer Janusz Kamiński, who he has been working with since The Lost World, which means this is their 18th movie together (absolutely bananas if you ask me)! From the opening shot you can tell Kamiński is just showing off, as he weaves you through New York City and continues to hold your attention until the final frame. Some of the highlights include: the incredible Gym scene, the 360 camerawork during the Tonight number, the effects and framing of Tony (Ansel Elgort) in the Maria number, and of course the Shadows shot before the rumble that is one of the top shots of Spielberg's entire career. What about Michael Kahn the editor, this dude has been working with Spielberg since 1977 and has done every movie with him since except E.T. Of course every musical number is edited perfectly and shows why he is so highly respected. Also, keeping the original choreography while adding so much to it gave us that feeling of nostalgia while also showing us it can be updated properly. There is really just so much to like here it is hard to find criticisms.
The only bad things I can really say about the film come from the original script of it. Some of the choices Maria makes just feel a little bizarre, and the love story happens very fast. It is just so hard to gripe because it is all done so well and with so much grace you just cannot help but fall into it.
Stock Watch
Stock Up – Rachel Zegler
She filmed this when she was 18 and straight out of playing Maria on her high school stage. She was a revelation and gave one of the great film debuts of all time here. She is so magnetic on screen and her voice is so beautiful you can just tell she is a star in the making. She will be in the new Shazam movie and the new Snow White remake, so we will be seeing a lot more of her very soon. We may even see her name pop up around Oscar time as well.
Stock Up – Ansel Elgort
First, I understand the allegations and I understand that nothing has been confirmed and the original post has been deleted. Second, I am here to talk about him as the star of this movie, and undeniably he is a star. He was incredible in Baby Driver and is even a DJ on the side, so clearly he is talented. We will have to see what happens with these allegations in the future, however as an actor and a performer he clearly has the IT factor.
Stock Neutral – Steven Spielberg
Do I even need to explain it?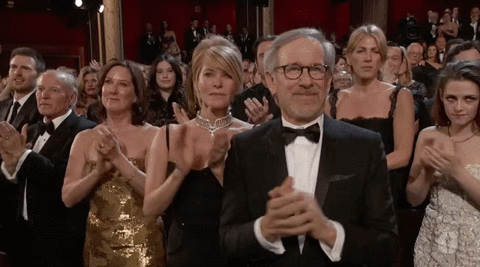 Stock Up – Ariana DeBose
A Broadway veteran at this point, she brought that obvious charisma directly to the big screen as Anita. She had a tough act to follow from Oscar Winner Rita Moreno, and she nailed it, especially in the show stopping America scene. As far as total acting chops she nails the attempted rape scene, yet I still do want to see her in a non musical; however she clearly is a very talented performer and has all the charm in the world.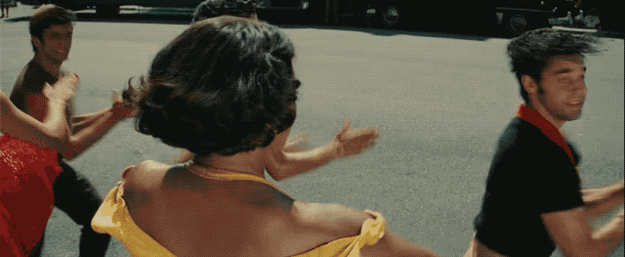 *A couple other tidbits
Bringing back Rita Moreno was genius, and her version of Somewhere (sang on a sore throat, on one take) will be remembered for a very long time.
Corey Stoll with hair, what are we doing here?
Did guys really toss guns around like this in the 50's?
Folks its a masterpiece what else can you really say. The Greatest Director of all time reached into his bag of tricks and pulled out a really special one for us. I will not be surprised if you hear the name of this movie at the end of the Oscar telecast.
Juice Rating:
*You can find my 2021 Movie Rankings here.
*You can find my Steven Spielberg Rankings here.
*You can find all of my Movie Ratings here.
*You can follow my Letterboxd account here.