*This is a true story…
IMDB Synopsis
Armed with a clear vision and a brazen, 78-page plan, Richard Williams is determined to write his two daughters, Venus and Serena, into history. Training on tennis courts in Compton, Calif., Richard shapes the girls' unyielding commitment and keen intuition. Together, the Williams family defies seemingly insurmountable odds and the prevailing expectations laid before them.
"Open stance!"
Sports parents are something that people who play sports deal with from an early age. You see encouraging parents, instructive parents, and of course the classic overbearing/obsessive parents. King Richard is about a parent who absolutely is obsessive, but through the course of the movie you learn that he does it out of love and a need to get his girls out of Compton. Venus and Serena are two of the greatest female athletes of all time, it just so happens they were fathered by the same man Richard Williams.
Richard Williams (Will Smith) had a plan for his girls and he pushed and pushed until he got it. Smith portrays that in a way that is not cocky, or rude, he is just matter of fact that his girls are going to be the best. We see him, and crucially we see their mother "Brandy" (Aunjanue Ellis) taking the 5 (yes 5) girls night after night to hit balls for hours on the only court in Compton, while also encouraging them all to get straight A's. If they did not get the grades they simply would not play. We also see their experience in Junior tennis where they saw how the sport did not seem ready for dominant Black Athletes. All of that culminating in Richard taking them out of matches for years until they were ready to go pro. It was controversial at the time, but it proved to be the correct decision, OBVIOUSLY.
We know the story, spoiler alert the Williams Sisters did well, but that is always the case with Biopics, what makes this a good movie is how it is told. Reinaldo Green just did a movie called JOE BELL which was another true story, with a very sad ending. This time he gets to tell an uplifting story with characters who always seem to be doing the right thing, even if the world is telling them it is wrong. Green also got Robert Elswit to shoot this movie who is a cinema legend and gives this movie a great look. Especially the way they contrast the area the girls grew up, with the country clubs and the elitist world of where they are trying to go. They also shot the Tennis in a way that was easy to digest and did not try and do to much, which some sports movies get sucked into. However, the movie is called King Richard so it really hinges on one man, and that is Will Smith.
Stock Watch
Stock Neutral – Will Smith
This guy has been one of the biggest stars in the world now for 30 years, but he has only been nominated twice for an Oscar. One for ALI and one for PURSUIT OF HAPPINESS, which is pretty crazy if you think about it. It is probably because he chooses to make a lot of money doing movies like GEMINI MAN or BAD BOYS III. He is an amazing actor though and this role is perfect for him. He really loses himself in it, especially with the accent he talks with. We also get to see him being hard on the girls, and challenging trainers with methods he thinks they should used. I do not know if he will win the award this year, but I am sure he will be nominated and we will see a major campaign.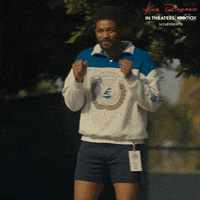 Stock Up – Aunjanue Ellis
One scene, one scene is all it took for this woman to overpower this movie. She takes her chance and shows Richard at that moment why both of them helped get the girls to where they are. Ellis plays the scene with such power and such grace its a shame we have not seen more of her over the years. I am a huge fan of hers and hope she as well gets at least a supporting actress nom for this role.
*A couple other tidbits
Both the girls were incredible, and learning that neither knew how to play tennis before this movie, is simply unfathomable.
Jon Bernthal was the funniest character in this movie by far, I hope he does more roles like this moving forward.
Shoutout Tony Goldwyn, he is the voice of Tarzan so he will always have my heart.
This is definitely a crowd pleasing sports biopic that you have seen before. However, we do not get these movies enough anymore, and the performances here are just so good, it is hard not to fall in love. King Richard shows what this family went through to get these girls to the top, and to think he had this planned from the beginning is just mind blowing.
Juice Rating:
*You can find my 2021 Movie Rankings here.
*You can find all of my Movie Ratings here.
*You can follow my Letterboxd account here.