*No twists spoiled of course…
IMDB Synopsis
James Bond is enjoying a tranquil life in Jamaica after leaving active service. However, his peace is short-lived as his old CIA friend, Felix Leiter, shows up and asks for help. The mission to rescue a kidnapped scientist turns out to be far more treacherous than expected, leading Bond on the trail of a mysterious villain who's armed with a dangerous new technology.
"History isn't kind to men who play God."
I have loved James Bond since I was a little kid. It was the first real franchise I was. ever introduced to, and one that has stuck with me ever since then. No matter who was playing the character I just loved the suave, cool, yet bad ass character that 007 always ended up being. I even wrote earlier about my affection for these movies even if they can be a little ridiculous at times. So you can imagine the wait for No Time to Die to come out has been excruciating for me. Well, Juicers it is finally here, so lets get into it shall we?
No Time to Die is the fifth of the Daniel Craig cycle of Bond and continues the singular serialized storytelling that these movies have become known for. We see Bond from where we left him at the end of SPECTRE, which is in retirement with Madeline Swann. However, shockingly Bond gets pulled back into the world of MI6 because of an ECO Terrorist named Lyutsifer Safin (Rami Malek)(Yes, Bond is still known for their subtleties). The story really is your typical Bond stuff for the most part, Evil villain who wants to cleanse the world, Bond traversing across the globe, beautiful women, a massive and fantastical lair for the villain, and of course gadgets. However, what gives this Bond movie a different feel than almost any of the 25 that came before it, is the idea of finality. We know this is Craig's final turn as Bond and since this is a serialized story, this chapter does give us an ending, which I like because it raises the stakes to a level we really have not seen in one of these films.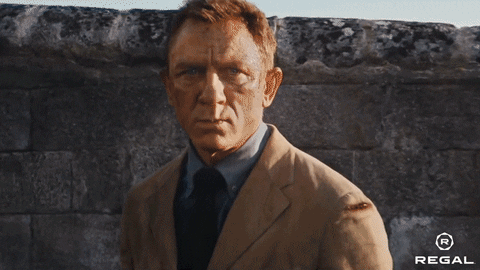 As far as what I liked and did not like about the movie let me start with the positive. I thought the camerawork and look of the action set pieces was incredible, which makes sense because this was Directed by the great Cary Fukunaga (True Detective). They used 65mm IMAX cameras for a lot of those scenes and they really stretch to that full aspect ratio and it is awesome. The incredible score by Hans Zimmer that blends with the entrancing opening song by Billie Eilish. I also think this is Craig's best acting work as Bond overall which is saying something given his work in Casino Royale and Skyfall. I also loved Lashana Lynch as the new 007 and of course how can you not love Ana De Armas and Jeffrey Wright.
The only things I thought didn't work about the movie was mainly things that had to do with Malek's Villain. He is hardly on screen and the only reason he has a vendetta with Bond is because of Madeline Swann who Bond literally met one movie ago. So the motivations and his overall time on screen felt underwhelming based on how much the marketing said he was gonna be in the movie.
Stock Watch
Stock Neutral – Daniel Craig
He has reached the top of the mountain and achieved what most people can only dream of. He successfully carried and ended a 5 series franchise with a character. He also took on the impossible task of being James Bond and succeeded with flying colors. The man can do absolutely whatever he wants moving forward.
Stock Up – Lashana Lynch
She was great when she showed up in Captain Marvel and she gets the ridiculous task of having to take on the number of 007 once Bond retires at the beginning of the movie. She plays the part beautifully and you can. make the argument she could take over the franchise by the end of the movie.
Stock Up – Ana De Armas
She is only in one scene but I mean….
Stock Neutral – Rami Malek
He just won the Oscar for Best Actor recently so I will cut him some slack, but again his character was extremely underwhelming. I will still see more of him obviously before I change my opinion on him but I would love to see him try to do something funny next.
*A couple other tidbits
Loved seeing Jeffrey Wright play Felix again, but Bond calling him his brother, ok?
Christoph Waltz returning as Blofeld was actually great.
Loved seeing Ralph Fiennes as M, Ben Whishaw as Q, and Naomie Harris as Moneypenny, really gave it the old Bond feel.
Billy Magnussen is on a hot streak right now huh?
Seeing the alley shot was really cool.
I actually thought this was funnier than recent Bond movies and that is probably due to Phoebe Waller Bridge helping on the script.
I really liked this movie and I love that it gave Daniel Craig a great way to leave the character. I thought it had every piece of a Bond movie you could possibly want, and it definitely will benefit to see it on the biggest and loudest screen possible.
Juice Rating:
*You can find my 2021 Movie Rankings here.
*You can find my James Bond Rankings here.
*You can find all of my Movie Ratings here.
*You can follow my Letterboxd account here.