*This is a true story…
IMDB Synopsis
Following the rise of Aretha Franklin's career — from a child singing in her father's church choir to her international superstardom — it's the remarkable true story of the music icon's journey to find her voice.
"Music will save your life"
When you talk about Aretha Franklin you are talking about royalty. She is the Queen of Soul and one of the most influential people in the history of our country. Not only with her music but with her work in the civil rights movement, she the definition of a legend. So anyone trying to portray her on screen was going to have an incredibly tough time living up to her greatness, however if there is one person who we thought could do it, then it would be Jennifer Hudson. For years she has been building up to this and being hand picked by the Queen herself doesn't hurt. And boy does she absolutely deliver from start to finish.
Respect really takes a look at the beginning of Aretha's career and what she went through to get to the top. She had to contend with race issues, husband issues, and personal issues so to see where her career ended up is truly spectacular based on where she started. One part of the movie they kind of skip over at the beginning is that during one of her fathers parties as a kid she was taken advantage of. This started a long line of men who would take advantage of her personally and professionally. Mostly by her manager and husband Ted White (Marlon Wayans), who not only hurt her career but would beat her as well. So the movie really focuses more on that relationship and less on the music in my opinion which does create a bit of a lull. All of that is drowned out by the Hudson performance though.
Jennifer Hudson simply was born to sing this music. Her voice is just on another planet and honestly in most scenes it just felt like Aretha was standing there on screen. There were times when Hudson was singing that it felt like a religious experience in the theater, and that was just the power of Aretha's music. It came from her heart and soul and bleeds directly into yours. So even when the movie hits the typical beats for a musical Biopic, her performance is so compelling you are able to look past them.
Stock Watch
Stock Up – Jennifer Hudson
Obviously.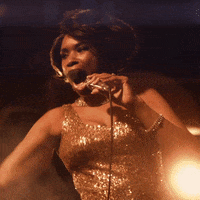 Stock Up – Marlon Wayans
He is fully back and I love the choices he has been making. With this and On the Rocks he is showing a very diverse range and I love it. I cannot wait to see more from him.
Stock Up – Marc Maron
We know he has one of the biggest podcasts on the planet, and he was fantastic in Glow. However, to see him again stealing scenes as Jerry Wexler, was just so impressive. He was hilarious every time he spoke and her really is one of the funniest guys out there right now.
*A couple other tidbits
I liked the opening throughout the house, introducing you to her life.
Forrest Whittaker was great as always, but nothing he had to do was anything crazy.
It was interesting to learn how connected her father was to the civil rights movement.
Mary J. Blige and Audra McDonald are Queens.
Respect does a great job of honoring Aretha and you cannot fault it for that one bit, she is a legend. Sure the movie might be a bit too long and feel familiar, but with Hudson giving one. of the great Biopic performances ever, it is worth seeing on the big screen.
Juice Rating:
*You can find my 2021 Movie Rankings here.
*You can find all of my Movie Ratings here.
*You can follow my Letterboxd account here.