*Ok if you insist…
IMDB Synopsis
A woman takes advantage of her growing celebrity status when the police and the public think her dead husband is just missing.
"What happened to my husband?"
Well Juicers, we got a weird one here. Sure I turned it on for the incredible cast: Allison Janney, Regina Hall, Mila Kunis, Awkwafina, Matthew Modine and on and on, but this movie is nothing like I expected it to be. I mean the movie basically just opens with Allison Janneys character Sue Buttons, walking in on her husband in a motel having an affair with a much bigger woman. This causes him to have a heart attack and Sue to in turn move the body and start the ruse, and off we went.
Director Tate Taylor who recently came out with stinker AVA, gives us a much different genre here with more of a black comedy. All of the actors seem super committed to the bit, the issue is the script just does not feel like it reaches the level of the performances. Watching Sue keep going deeper and deeper down the rabbit hole with this lie was interesting to a point but you just want to yell at her at times to just get it together. She is being chased the whole time by Detective Cam Harris (Hall), who also inadvertently stumbles on two cons trying to extort Sue's dead husband. There is just too many storylines for this 96 minute movie to tackle. Oh and I did not even mention Sue's sister exploiting her for a story, while Sue is back stabbing her and using Gloria Michaels (Juliette Lewis a more famous newswoman to "help her cause."
Honestly, it was hard to keep track of where you were at times with everything going on. But I do not want to just bash and act confused because some of the humor and the performances did work for the movie. It was interesting to see a lot of the actors, especially Janney, Kunis, and Awkwafina all playing against type and trying to do roles that we would not expect.
Stock Watch
Stock Neutral – Allison Janney
She is one of the greats (do you realize she has an Oscar and 7, yes 7 Emmy's) and again I like seeing her in roles like this, because usually she is in roles where she is the boss lady and in command. Here she seems to be less in control but more flying by the seat of her pants, and I like that.
Stock Neutral – Regina Hall
I just love Regina Hall and I have been saying for years just give this woman all the roles. She has proven she can do crazy comedy and she has also proven she can lead a movie as well. I love her as the detective here and seems to be the only sane person in this town of eccentric characters. Also seeing her with that wavy hair is just fun and different.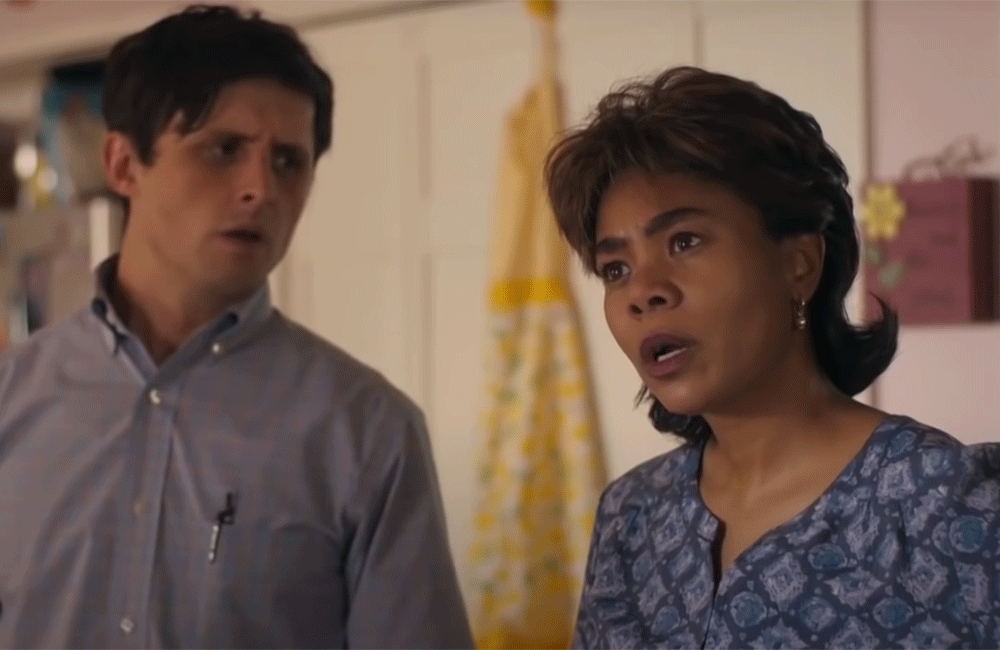 Stock Down – Tate Taylor
I do not know what to think of him as a director. The Help was a huge hit and despite being semi problematic I think it is quite a good film. But movies like The Girl on the Train, AVA, Get on Up and this he is very inconsistent. I do like that he seems to try many different genres, I just think he has been missing the mark a bit lately.
*A couple other tidbits
Chris Lowell is on fire these days especially after Promising Young Woman.
Why does Juliette Lewis not work more?
I mean the cast just continues to look ridiculous on paper when you keep going down the line wiht Jimmi Simpson, Wanda Sykes, Samira Wiley, and even Ellen Barkin.
I really wanted this movie to work, and I do not think it is bad by any means. I just think it is very mediocre and a poor use of a great collection of actors. It is worth watching though to see all these wacky performances because they do not really make a ton of movies like this anymore.
Juice Rating:
*You can find my 2021 Movie Rankings here.
*You can find all of my Movie Ratings here.
*You can follow my Letterboxd account here.