*Not much to spoil here
IMDB Synopsis
A young man finds romance with a literary agent while taking a trip with the woman's famous aunt and her friends.
"I hope you don't regret that. That's just the trying is all. If you don't try, if you don't risk."
I love Cruises, I find the sea to be calming, and the idea of just living on a contained boat and being with your loved ones can be fun (maybe not in 2020). We hardly ever see movies based on a cruise, besides a few recent such as Like Father or of course Hotel Transylvania 3. But let's be honest one is a Royal Caribbean Ad, and the other is Animated so to find a story that can truly capture the fun, yet sometimes monotonous energy of the cruise life was interesting.
Steven Soderbergh decided to take on a new challenge after shooting on iPhones and taking on the government. That was to see if he could shoot a movie on a Queen Mary trip across the Atlantic. He did this by using a mainly improvised script and using his masterful editing skills to edit each night of the trip. Sure this is not a blockbuster production but it is a Soderbergh movie for HBO Max and it still has plenty of craft.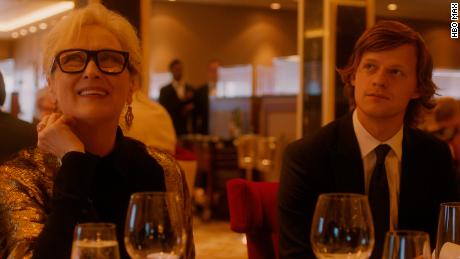 The story itself is about an aging writer named Alice Hughes (Meryl Streep) who is giving a speech on a cruise and invites her two old friends Roberta and Susan (Candice Bergen, and Dianne Wiest respectively) and her nephew Tyler (Lucas Hedges) to come along. On the trip to England they uncover some old wounds but also come to grips with aging.
Mostly this is just people in a room discussing life and friendship but again the story is told with a lot of craft and the the performances are all up to par considering the incredible actresses involved.
Stock Watch
Stock Neutral – Meryl Streep, Candice Bergen, and Dianne Wiest
All three of these women are three of the greatest Actors of their time. Streep and Wiest both have Oscars, Bergen has an Oscar Nom and numerous Emmy's. All bring great energy to their roles and you can really see they enjoyed the improv. It will always be a treat to see any of them on screen.
Stock Up – Lucas Hedges
As always it is just great performance after great performance with him. You probably have to go back to someone like Leo DiCaprio to find a career that started as great as Hedges. He makes great choices in directors, and scripts and always seems to bring his A game for everything. I continue to be excited every time he is on screen.
*A couple other tidbits
Gemma Chan is fun in her role as Alice's agent, her character is just not as fulfilling as I would like.
The scenes all feel very static and you can tell that made it easier to edit quickly.
The doctor was just reading the Odyssey?
Let Them All Talk is another in a long line of experiments from the great Steven Soderbergh. Some of them really work, but this one did not quite get there for me. I still think it is a solid story told with craft, I just do not think it has the overall charm of some of his best work. It is worth a watch though since it is streaming on HBO Max and has some dynamite performances from the great actresses.
Juice Rating:
*You can find my 2020 Rankings here.
*You can find my Steven Soderbergh Rankings here.
*You can find all of my Movie Ratings here.
*You can follow my Letterboxd account here.