Okay Juicers, so I am doing this 30 day Film Challenge that should really give my thoughts and emotions an interesting time during the next month of quarantine. Day 8 brings us to a movie that I like the soundtrack better than the movie. And even though I do really enjoy this movie, the soundtrack is just over the top bangers from start to finish. And that movie is the Hugh Jackman led The Greatest Showman.
*This is a true story
IMDB Synopsis
Growing up in the early 1800s, P.T. Barnum displays a natural talent for publicity and promotion, selling lottery tickets by age 12. After trying his hands at various jobs, P.T. turns to show business to indulge his limitless imagination, rising from nothing to create the Barnum & Bailey circus. Featuring catchy musical numbers, exotic performers and daring acrobatic feats, Barnum's mesmerizing spectacle soon takes the world by storm to become the greatest show on Earth.
THIS IS THE GREATEST SHOW!
That opening number to start off The Greatest Showman brings you in so emphatically to this world that you just fall in love immediately with this music. I remember seeing the Greatest Showman by myself thinking that it would be an interesting musical but had not heard the music yet. I found myself wanting to jump out o my seat and start jiving with my guy Hugh. I immediately took my Girlfriend at the time (now fiance sup Romo) and we just played this soundtrack on repeat because of how happy it made us.
The movie itself directed by Michael Gracey, is a fun biopic about P.T. Barnum (Hugh Jackman in a perfect role) and how he started his circus of oddities as they called them. But of course he gets a little too full of himself and starts to push his friends and family away. Leading us to the happy ending everyone wants. But as we all know musicals can be a little cheesy sometimes, as long as the music works. And boy does the music bang!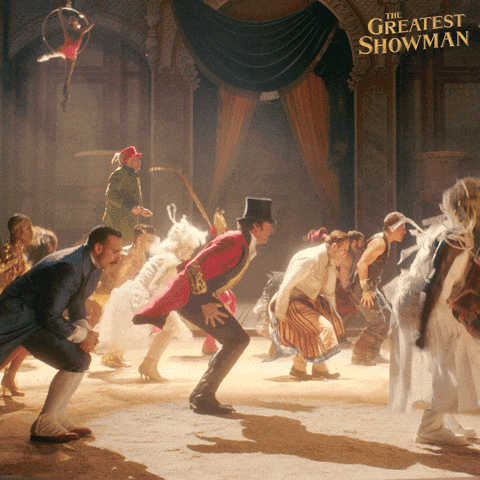 Written by Justin Paul and Benj Pasek (La La Land, Dear Evan Hansen) every song gives you something a little different to really cling to. So let's break them down shall we?
The opening number "The Greatest Show" as I said is just a straight banger to get you into the movie. It has a chorus that just makes you want to belt and an energy that gets the heart pumping.
The second song "A Million Dreams" is a growth montage for Barnum and his future wife but also a fun song about hopefulness in life. It is very sweet and when his kids start singing it, you really feel like you cam full circle in one song.
When Come Alive hits you already are in but god damn this salsa style romp just gets the blood flowing again. You get to meet all the oddities and again Hugh just brings so much energy to it. This is also the first time the choreography really hits you.
"The Other Side" gives us Zac Efron and Hugh Jackman together and who the hell doesn't want that. Zac Efron is basically modeling himself to be a Hugh Jackman jack of all trades type, so in the future we might look back on this as a passing the torch of sorts.
"Never Enough" is interesting because it is an amazing song and it has become a huge audition song for voice shows. However, Rebecca Ferguson plays the character in the movie but she is the only character who didn't sing. Loren Allred from the voice sings the song really though. In any case it is a heart stopping ballad in the middle of all this craziness.
And so we come to "This is Me" the show stopper of this whole soundtrack. A power anthem for anyone who just wants to be themselves and be accepted. If this song does not make you feel something than you really have a heart of stone. Keala Settle is stunning in this scene.
"Rewrite the Stars" is the love song between Zendaya and Efron and damn again if it does not freaking rule. The two of them swinging around the room just going full voice to falsetto with ease and it sounds amazing. Their voices blend so well and makes an excellent song.
"Tightrope" here is probably the weakest song in this movie. Michelle Williams is a much better actress than singer, and the song just is not great to begin with. But it is ok to have one miss in the midst of all this greatness though.
The finale is "From Now On" and holy hell if this is not an empowering finale. Just the entire chorus at full blast and the god Hugh Jackman at his all time best. This is such a great way to wrap it up, and you leave with such a smile.
As far as fun soundtracks for a musical it really does not get much better than this.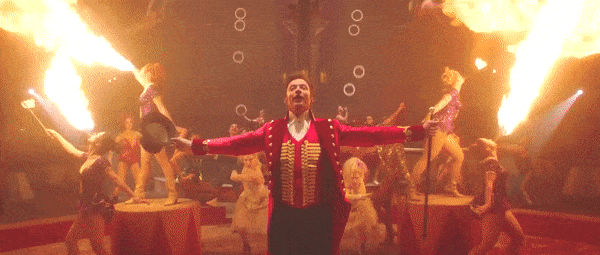 *A couple other tidbits
The critic is just such a little turd.
The Choreography is so good in all the scenes.
What a great time this movie gives you. Hugh Jackman is truly The Greatest Showman and with such incredible material to work with this cast brings alive this glorious music. I just hope they bring it to Broadway at some point.
Juice Rating:
*You can find all of my Movie Ratings here.
*You can follow my Letterboxd account here.