Okay Juicers, so I am doing this 30 day Film Challenge that should really give my thoughts and emotions an interesting time during the next month of quarantine. Day 7 brings a fun prompt because it allows me to choose the movie that I will never get tired of. And if you follow me at all on social media (@ajgold20 on twitter, sup) or have had a conversation with me, you know that movie is the 1995 Steven Brill classic Heavyweights.
Heavyweights I always tell people is my favorite movie of all time and it is for many reasons that I will list below. But honestly most of all is just because it makes me so happy. I may not have been necessarily "fat" when i was younger, but I know what it is like to feel like an outsider and be picked on. So the empowerment that this story brings to anyone in that position is really inspiring to me.
*Fat Camp people
IMDB Synopsis
Gerry (Aaron Schwartz) is not looking forward to his summer vacation, since he'll be spending it at a camp for overweight boys in order to shed pounds. Fortunately, a kindly couple, the Bushkins (Jerry Stiller, Anne Meara), run the camp and make the process fun and relaxed. However, they're soon forced to declare bankruptcy and sell the camp to Tony Perkis (Ben Stiller), a fitness fanatic who turns the camp into a living nightmare of over-the-top training. But the kids plan to fight back.
So it finally happened, I finally have an excuse to write about my favorite movie of all time. Heavyweights is a fantastic summer camp movie directed by Steven Brill (longtime Sandler director), and written by him and Judd Apatow (ever heard of him). Between this and Wet Hot American Summer, you have the two greatest representations of what I saw at summer camp every year.
Gerald Garner (Aaron Schwartz) is unceremoniously shipped off to fat camp by his parents, quickly learns that the has been taken over by fitness "guru" Tony Perkis (he takes the camp over from the Bushkins played by Ben Stiller's Parents Jerry and Anne Meara). Perkis wants to create an informercial with all the chubby campers, so out with the Blob and the go karts and in with the sliding ice things?
But of course the boys fight back against the extremely evil Perkis. They band together as well to show that no one is alone when a bully is picking on you. And we get a classic 90's prank off basically with who can stand it the longest.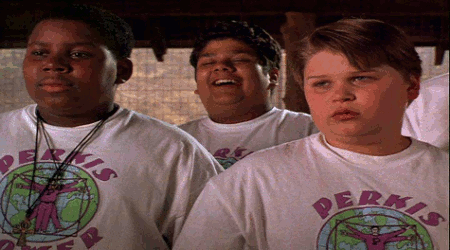 Let's talk about Tony Perkis (Ben Stiller) shall we? One of the great movie villain of all time in my opinion. He is so memorable with literally every line he says, which here are some of my favorites:
It's a beautiful day today children, just Father Sky, Mother Earth, and your dear old Uncle Tony.
Lunch has been cancelled today due to lack of hustle, deal with it.
Tonight's lecture, Liposuction, option or obsession.
And literally every single word of this speech…
We also need to talk about the That Guy crew in this movie as well so you know what that means..
Who's That Guy?
Jeffrey Tambor – 209 IMDB Acting Credits
Love seeing Tambor as the dickhead dad of our hero Gerald. He does come through at the end though so good on him! He also has a mean stache in this role.
Tim Blake Nelson – 90 IMDB Credits
He is only in one scene here but it is very memorable. I have also discussed my guy TBN on the blog numerous times already but again it is just amazing whenever I see him pop up on my screen.
Paul Feig – 49 IMDB Acting Credits
This is less of a that guy but more of like holy hell he was an actor? He is now one of the biggest directors in Hollywood, having directed Bridesmaids, The Heat, Spy, Ghostbusters, and numerous other hits. He is actually hilarious in this and I wish he acted more.
Allen Covert – 44 IMDB Acting Credits
You have seen him in basically every Adam Sandler movie so it is always fun to see him when he is not beside the king.
Peter Berg – 51 IMDB Acting Credits
When I found he was in this I almost pooped my pants no joke. What an absolutely stunning cameo as the Chef.
* A couple other tidbits
Kenan Thompson is so god damn funny in this role.
It is so sad to see Shaun Weiss (Goldberg from Mighty Ducks) and know what happened to him now (look it up).
Apparently Judd Apatow showed this to his wife Leslie Mann on their first date to impress her.
They filmed this in under two months over the summer in North Carolina.
This is what you want from a movie. Humor, good morals, a little bit of edginess and a nice ole happy ending. Like I said this is my favorite movie of all time because it shows anyone who has ever been picked on that it is ok. There is always someone there for you and always a place you can go and feel accepted.
Juice Rating:
*You can find all of my Movie Ratings here.
*You can follow my Letterboxd account here.