*It is a remake and a classic book…
IMDB Synopsis
A little boy and his kindly grandmother thwart the efforts of a coven of witches to rid Britain of children by turning them into mice.
"That's how you want to play, we'll play the Shakespeare way."
As we have discussed numerous times Juicers, remaking something is not an easy thing to do. Why do people continue to do it? Well your guess is as good as mine. But here we are in 2020 and HBO Max has released The Witches a remake of the classic 1990 movie. Im gonna start positive so let's just list off all the good things this movie has going for it.
This is based off a beloved Roald Dahl book, and I love those movies. Charlie and the Chocolate Factory, The BFG, Matilda, etc.. all these stories are so much fun and bring so much life to their respective worlds.
This is written by Robert Zemeckis, Kenya Barris, and Guillermo Del Toro, an absolute power trio of Oscar and Emmy winners joining forces.
Directed by the aforementioned Zemeckis who of course has done Forrest Gump, Cast Away, The Back to the Future Trilogy and many many other great movies.
Alan Silvestri composer of the Avengers score and the Back to the Future score composed the score for this movie as well.
Anne Hathaway!
Thats a lot of good things to note at least if you are going to try and remake a classic movie. And for the most part the movie does a really good job of telling Dahl's great story while still being entertaining. The reason I listed all of that again is because people are inevitably going to compare the two movies and I think it is important when we talk about these remakes not just to be like, "oh the original is better and thats that." This movie may not be perfect but it absolutely has merit and is a fun watch during Spooky Season.
*If you are looking for a good list of Spooky movies you can start here
The movie follows the same plot as the book but they have made a key difference. The main character is Black and race plays a factor in the story. I actually think this was a really good way to update the story and make it feel relevant to 2020. Also, after worrying about the effects going to CGI after having incredible practical effects in the original, the effects looked awesome. The Witches teeth were abundantly scary and the mice were fun and didn't feel as fake as something like the Dolittle animals. Overall though the adventure is still enjoyable and kids will still be the right amount of scared by these Witches.
Stock Watch
Stock Neutral – Anne Hathaway
Oscar Winner Anne Hathaway is one of the finest actors on the planet, but I had never seen her do anything quite like this. She brought her own style to the role of the Grand High Witch, and chewed every bit of scenery she could find. She seemed like she was having a blast and I loved it.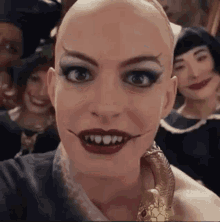 Stock Up – Robert Zemeckis
The last time we discussed Zemeckis it was for the train wreck that was Welcome to Marwen. I am happy to see Zemeckis back doing fun movies now though because he has one of the great filmographies in movie history.
*A couple other tidbits
Needed wayyyyy more of Stanley Tucci in this. He is one of my favorite actors and having only like 3 scenes for him is unacceptable in my book.
All of the kids were really good especially the star Jahzir Kadeem Bruno who I had never seen before.
Octavia Spencer is great as always, I could literally watch her read the dictionary and I would probably be happy.
Chris Rock's narration made this movie on some level made it seem like a really crazy episode of Everybody Hates Chris.
Alan Silvestri's score is fantastic and is perfect for a fun October movie.
I know Juicers, we have gone back and forth on remakes over and over again. But I think when you can update a story and put a modern spin on it, that gives the movie relevance. The Witches is still such a fun story, and I think it really fits well on the HBO Max platform. Seeing as we did not get a ton of new Spooky movies this year, I am glad we were at least able to see this one.
Juice Rating:
*You can find my 2020 Rankings here.
*You can find all of my Movie Ratings here.
*You can follow my Letterboxd account here.