*A few spoilers here..
IMDB Synopsis
A group of mercenaries, all centuries-old immortals with the ablity to heal themselves, discover someone is onto their secret, and they must fight to protect their freedom.
"Well, sometimes you got to work with people, you don't want to eat with."
The idea of immortality is something people have grappled with in movies forever. It is something that nobody can fathom, but we all have thought about at one time or another. In the new Netflix film, that idea is at front and center while we get to see a team of immortals (led by Charlize Theron obviously) grapple with change, even when they do not change very much.
Directed by Gina Prince-Blythewood (Love & Basketball) this is a story that is adapted from an extremely popular comic series.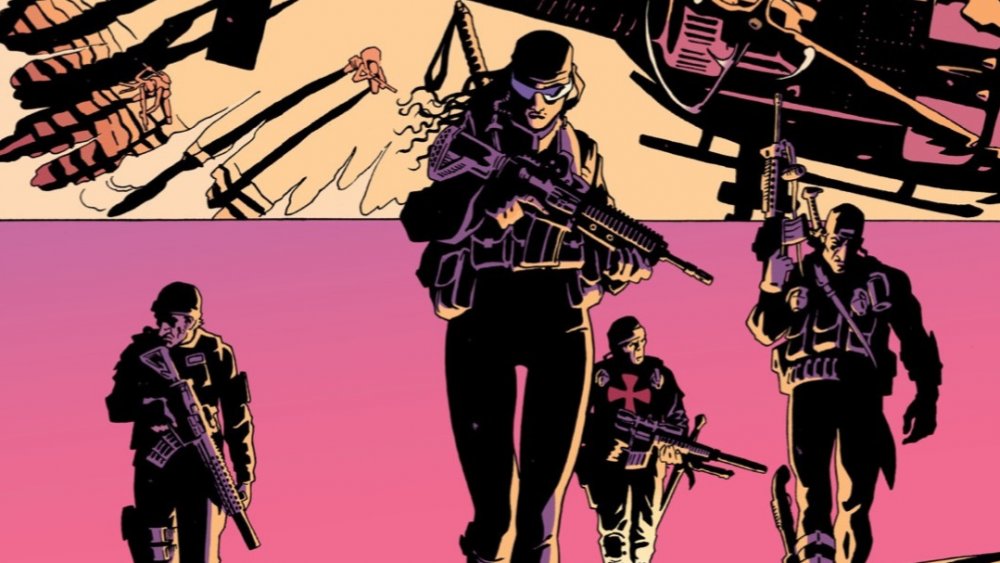 With good source material comes a good story, and that is what I really felt myself drawn into here. The mythology of this group of people who had been around since biblical times, having an effect on the everyday world. The idea that they save someone in 1700 and that persons ancestor in 1900 can invent the phonograph or something like that. It shows me that any action we do might not matter now but perhaps it could in the future.
This particular story finds the crew in the present day, trying to stay incognito in our ever open and available world. When they find out there is another one of their kind they find Nile (KiKi Layne) and together they set off on a mission to stop a Pharma CEO (Dudley Dursley) from trying to use their blood for profit. There is a lot of great action throughout, but what really shines throughout is the chemistry of the group, and learning about their pasts bit by bit.
A lot of times in these types of movies, they get mired in flashbacks or over explaining, but I really liked how you got those pieces through out. And not just one exposition dump near the beginning. It helped keep the audience engaged and let us just revel in some good ole Charlize Ass Kicking.
Stock Watch
Stock Neutral – Charlize Theron
She had such a big year last year with Longshot and Bombshell, it was great to see her come back to her action persona. She has been the best female action star the last 20 years and you can see why. She is always this incredible presence whenever she is on screen and is so confident in any sort of action scene.
*A Couple Other Tidbits
Love seeing Chiwetel Ejiofor even though he really had nothing to do in this movie other than to explain things.
KiKi Layne as Nile Freeman was great but we will probably see more of her if there in a future story.
I liked the rest of the team as well and how they were able to portray gay superheroes without throwing it in your face. It felt natural and true.
I am more excited for where the sequel can go with Quynh than I was with the overall story of this movie.
As I said above this movie set it itself up big time for a sequel. Netflix loves these action movies and people seem to dig them as well, so why not! I enjoyed the action, I enjoyed the chemistry and I was intrigued by the mythology of this world. I would gladly watch a second movie if they made it.
Juice Rating:
*You can find my 2020 Rankings here.
*You can find all of my Movie Ratings here.
*You can follow my Letterboxd account here.