*This is a true story
IMDB Synopsis
U.S. Navy Cmdr. Ernest Krause is assigned to lead an Allied convoy across the Atlantic during World War II. His convoy, however, is pursued by German U-boats. Although this is Krause's first wartime mission, he finds himself embroiled in what would come to be known as the longest, largest and most complex naval battle in history: The Battle of the Atlantic.
"Greyhound, good luck surviving the night."
Over the years we have seen a lot and I mean a lot of WWII, with Tom Hanks being a part of some of the biggest and best of those stories. Things like Saving Private Ryan, Band of Brothers, The Pacific and many more have shown Hanks undying interest in history and in particular WWII. His new movie Greyhound, which he penned the script for, is a tight 88 minutes of what happens in a single battle on the Atlantic.
Directed by Aaron Schneider this movie really was made to be seen on a big screen. Of course, though with everything going on they had to make other plans, so they sold it to Apple TV+ and now it is streaming freely. Which is good for anyone who is interested in this battle. Because again that is all we really get here. A shorter story about this crew aboard the Naval Ship Greyhound in a battle with submarines and other ships in the Atlantic. The issue for me is that they really give you no one to care about so it is hard to get invested.
The movie is basically just an hour and a half of Naval Jargon and has zero interest in any characterization at all. Now Juicers, I am not the biggest fan of War movies to begin with, but when I can at least support the characters then I can really get into it like Dunkirk (Nolan the God) or even 1917. Even Tom Hanks character Commander Ernest Krause gets one scene with the criminally wasted Elizabeth Shue, yet we still have no investment in him due to the incredibly thin script.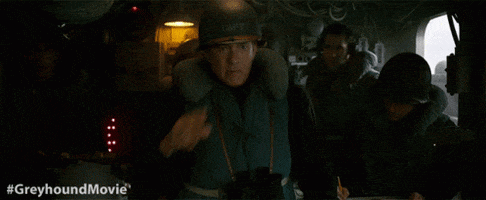 I even thought the visuals were not that great, considering all the marketing directed toward them. It felt like I was watching guys on green screen, which we were, rather than anything practical or exciting. It just took a lot of the energy out everything going on because nothing at all felt grounded.
Stock Watch
Stock Neutral – Tom Hanks
It's Tom Hanks guys, and I know said this last time, but c'mon it's America's Dad. Yeah, it is not his best work, but the guy is a living legend and I will continue to watch anything he decides to be in. I just wish he developed the characters a little better in his screenplay for this movie.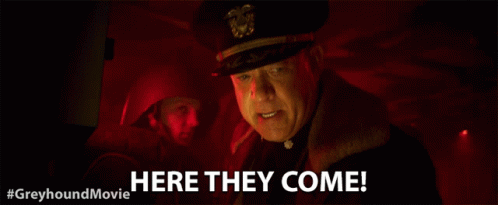 *A couple other tidbits
The sounds were all great in this and would have been awesome in surround sound.
If you have Stephen Graham, why not use him?
I am happy that we are continuing to get stories about real history, however this just was not executed very well. And it is not a twist or a spin on a very worn and tired genre. It is a generic one battle movie that moves quick and does not slow down at all. This may not have been made for the small screen but the story and the action were just not enough to make up for that.
Let me know what you thought in the comments!
Juice Rating:
*You can find my 2020 Rankings here.
*You can find all of my Movie Ratings here.
*You can follow my Letterboxd account here.