Okay Juicers, so I am doing this 30 day Film Challenge that should really give my thoughts and emotions an interesting time during the next month of quarantine. For day 27 I am asked to choose a movie I find visually striking. The first movie that popped into my head was an interesting one, so I decided to go with it. Ang Lee's revolutionary Crouching Tiger Hidden Dragon.
*A few spoilers here
IMDB Synopsis
In 19th century Qing Dynasty China, a warrior (Chow Yun-Fat) gives his sword, Green Destiny, to his lover (Michelle Yeoh) to deliver to safe keeping, but it is stolen, and the chase is on to find it. The search leads to the House of Yu where the story takes on a whole different level.
"To repress one's feelings only makes them stronger"
Crouching Tiger is one of those movies, like The Matrix, that changed the way we look at special effects in movies. Ang Lee has always tried to make his movies look special in different way and Crouch Tiger is one of those crowning achievements. At the 2001 Oscars the movie won 4 awards (stunning for a foreign film at the time) including: Best Cinematography, Best Score, Best Art Design (now Production Design), and Best Foreign Language Film (now International Feature). It was also the highest grossing foreign film at the time.
The story is relatively simple on the surface with an ancient sword being stolen and the hunt to find it. However, you get multiple love stories, and some amazing martial arts work throughout. A lot of that work is done through wire stunts that at the time were incredible and still look great today. And the amazing part is the main actors did most of their own stunts with the wires. That fight scene in the trees is one of the coolest action scenes you will ever see.
The acting is great as well which is interesting because it took awhile to figure it all out for Lee. The four main actors apparently all spoke 4 different styles of Mandarin creating a confusion and them having to focus on trying to form the same dialect. Michelle Yeoh who is a badass in this, had to learn all her lines phonetically. I also love seeing my boy Chow Yun-fat here who would go on to make a ridiculous but fun martial arts movie call Bulletproof Monk.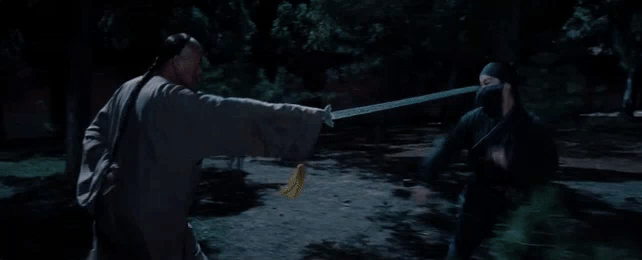 *A couple other tidbits
I found myself less interested in the love stories this time around.
The ending still perplexes me to this day.
That score is so cool how it blends modern orchestra with old Chinese style music.
You can watch this movie in mandarin or dubbed in English.
One more shout for Michelle Yeoh.
This movie is just a delight to look at with incredible film work along with those magnificent stunts. I forgot how much I enjoy these type of Martial Arts movies because honestly they do not make a ton of them anymore.
Juice Rating:
*You can find all of my Movie Ratings here.
*You can follow my Letterboxd account here.