The following takes place between the first word and the last word. All words were typed in real time.
24, or Day 1 as it is affectionately known, broke onto the scene in November 2001. The country, just a few months removed from the 9/11 terrorist attacks, needed a true American hero story. Enter Kiefer Sutherland as Jack Bauer.
Like many of you, I was a little young to watch the first few seasons live but remember sneaking into my parent's bedroom and hiding beneath the foot of their bed while those seconds ticked on the screen.
Before we break down any of the busiest days in Jack Bauer's life, let's take a moment to discuss the three concepts that Joel Surnow and Robert Cochran mastered to make 24 the most heart-pounding, edge of your seat network show of all time.
Real time episodes — 24-hour long episodes, each documenting an hour of Jack's days from hell. Frankly speaking, it was a gimmick. It got the people talking. Gimmicks can only take you so far if you don't have the plot lines to back it up. 24 did not lack in that category. Critics and audiences alike ate it up! The only thing we were left to wonder about was whether or not Jack ever took a piss.
Split screen – With so many characters and subplots happening concurrently, how would the producers give anyone enough screen time? Can't show one after the other if they are happening simultaneously can you Joel? He says, "It's cool fam, I got this." Boom, split screen that shit. Two, three, even four boxes at once keeping us up to speed on what's going on with everyone. Some would call it cocaine for our eyeballs. (Or maybe that's just me) Gimmick?? Maybe, but it worked.
[**Spoiler Alert** But seriously, the show is 15 years old. If you haven't watched, do yourself a favor]
3. Cliffhangers – Sure, 24 didn't invent the cliffhanger, but damn did they leverage it well. There was something about how every critical moment seemed to always happen right around the top of the hour, a little too convenient if you ask me. Not only did they leave us hanging from week to week, they left us hanging at the end of seasons. Seriously, thank god I was watching the DVD set of the first 3 seasons because if I had to wait all that time to see if David Palmer had really died, I might have died myself.
There is really no way to concisely break down the series so let's quickly run through our favorite characters, the ones we don't like so much, and some of the best moments in Jack Bauer Enhanced interrogation history (AKA TORTURE).
Hail to the Chief: There were some iconic presidential moments throughout the series, but one man stood above all the rest. David Palmer (Dennis Haysbert) is on my Mount Rushmore of TV presidents. (Along with Josiah Bartlett, Selena Meyer, Thomas Whitmore) The man formerly known as Pedro Cerrano crushes this role and always stood on the right side of good vs. evil throughout his tenure. He survives an assassination attempt and even comes back after his presidency in season four to fix the problems that this next guy caused.
Charles Logan, what a weasel that guy was. Who's with me? But how about the Palmer fam? Little bro Wayne also getting a turn in the Oval Office? Talk about a sibling rivalry. Lastly, Although he wasn't a president himself, Secret Service agent Aaron Pierce (Glenn Morshower) deserves some recognition. Appearing in 7 seasons, he was one of the longest tenured characters on the show. Let's hope after all that hey got to retire somewhere quiet and relaxing.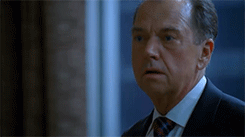 CTU Tech Wizards: In my opinion the best character of the entire series, Chloe O'Brian (Mary Lynn Rajskub) deserves her own blog. Whoever hired her for CTU deserves a medal of honor. She saves the day, multiple times a day, every damn season. Another fan fave, Edgar Stiles (Louis Lombardi), was one of the saddest deaths in the series. Big guy couldn't avoid that darn nerve gas attack on CTU. ☹
The Operators: Jack had his fair share of teammates in the field. Ranging from the GOAT, Michelle Dressler (Reiko Aylesworth), to the misguided Cole Ortiz (Freddie Prinze Jr.). George Mason had one of the most heroic deaths in the series, and Curtis Manning (Roger Cross) was the triple threat (looks good, shoots good, smart as hell). Tony Almeida (Carlos Bernard), despite a quick turn as a legit terrorist, still has his spot in the CTU hall of fame in my opinion. Especially when he was rocking that soulpatch.
Agent in Charge: Brian Hastings (Mykelti Williamson), great with a Bluetooth headset, not much else. Bill Buchanan (James Morrison) withstood one or two firings to maintain status as our silver fox king.
The Bad Guys: Along with the presidents, the villain roster for 24 is second to none. Jon Voight, James Cromwell, Dennis Hopper, Arnold Vosloo, Sarah Clarke are just a few of the folks you would recognize. Also, a common theme for these folks seems to be their connection to Jack. Nina Myers was a former coworker and love interest for Jack. Even his own dad and brother had a plot to nuke the country. Sheesh!
King of the enhanced interrogation (again just torture): Rather than write this out, I'll just leave this supercut of Jack Bauer threats.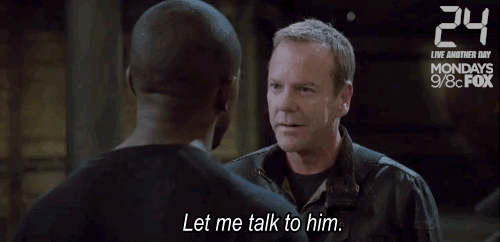 With over 200 hours of episodes in the series, has anyone else thought of doing a quarantine re-watch? Who knows, maybe we could start a Zoom "book club". It's actually on Hulu right now so exec decision… that's happening. Season 1 starts Monday.
Until Next Time…