Okay Juicers, so I am doing this 30 day Film Challenge that should really give my thoughts and emotions an interesting time during the next month of quarantine. Day 5's prompt was to choose a movie where a character has a job that I want. Never in my life have I wanted to be a movie character than Calvin Cambridge, so I chose Like Mike.
*LOL
IMDB Synopsis
Fourteen year old, hoops-loving Calvin Cambridge (Lil' Bow Wow) has a dream: to be a famous basketball player — to mix it up among the NBA's greatest. But in a game dominated by giants with unparalleled athletic abilities, Calvin's diminutive stature and limited skills, make this a far-off fantasy. Or is it? After he laces up a mysterious pair of old sneakers inscribed with the faded initials MJ, Calvin makes the leap from playground hijinks to NBA superstardom…
Who wouldn't want to be Calvin Cambridge? Ballin on NBA Superstars, ordering insane amounts of room service, getting as much free stuff as you want. All of that seems like the life and made Like Mike a fantasy every one of my friends dreamt of when we were younger.
Directed by John Schultz this story is about Calvin (Lil' Bow Wow) and his journey not only through the NBA, but also to find a family to take him in. He is an orphan and he has his own little family at the group home (with Jonathon Lipnicki and Brenda Song!) but he is truly searching for a place he can call home. When he finds shoes that were worn by Michael Jordan and somehow gets struck by lightning, he becomes a superstar NBA player. and cue the damn music folks…
He along the way meets his Basketball hero Tracy Reynolds (Morris Chestnut) and the two of them for an inseparable bond. Both of them need each other in more ways than one and Chestnut and Bow Wow really have incredible chemistry.
This movie is one of the most star studded affairs I have ever seen. Not only do we have an incredible list of NBA stars but we also have one of the most stacked That Guy list I have ever seen (more on that in a second). Here is a list of the NBA players we see:
Vince Carter (with a great point)
Michael Finley
Allen Iverson (the blue jersey in this is iconic)
Steve Nash
Dirk Nowitzki (with an all time cameo)

Jason Richardson
Alonzo Mourning (another tough look for Zo)
Tracy McGrady
Desmond Mason
Gary Payton (more like a mitten Gary)
Chris Webber
Jason Kidd (tough look for him)

Steve Francis
David Robinson (HEY ADMIRAL)
Gerald Wallace (random appearance of the day)
Rasheed Wallace
An absurd cast of characters and almost everyone of them has a memorable moment in this.
Who's That Guy/Gal?
Jesse Plemons – 59 IMDB Acting Credits
He has not even been around that long but it feels like an eternity. This movie was one of his earliest works and then of course went on to Friday Night Lights, Fargo, Breaking Bad and so on. He is such a little dick in this as the bully of the orphanage, but of course he comes around to help our hero in the end.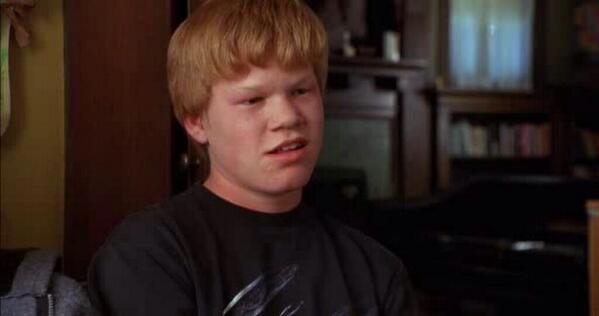 Robert Forster – 188 IMDB Credits
The Late Great Robert Forster was a hall of fame that guy in his day. Of course he starred in Jackie Brown, but he also did stints on Heroes, Breaking Bad, Twin Peaks and many many others. He actually is bringing it in this role and I love everything he is doing as the coach of the Knights. It honestly feels like his acting in some way legitimizes this movie.
Crispin Glover – 69 IMDB Acting Credits (nice)
All time asshole in this role as the head of the group home that Calvin lives at. He always seems to play a villainous role, mostly because he has a pretty hateable face (no offense Crispin). I wish we saw more of him these days.
*A couple other tidbits
Eugene Levy is fantastic as always as kind of the Public Relations guy for the team.
Lipnicki and Song are fantastic as Calvin's friends and you just absolutely love them by the end of the story.
Calvin driving the car is still a pretty funny scene.
Listen we get it, this movie is not Lawrence of Arabia, but it is an all time fun movie from my childhood. I found myself really invested in Calvin finding a family, and Tracy taking him and Murph at the end is heartwarming as hell. Sometimes you just gotta live out your dreams vicariously I guess.
Juice Rating:
*You can find all of my Movie Ratings here.
*You can follow my Letterboxd account here.