*I mean what the hell are we doing here.
IMDB Synopsis
A tribe of cats must decide yearly which one will ascend to the Heaviside Layer and come back to a new life.
How do I even write a review about the absurdity that is the new movie Cats. Now I have seen the Musical and I do understand that the show has had an insane impact on Broadway as a whole, but why? The entire show is just song after song of a new Cat that is introducing itself and telling you why they should be chosen to ascend to the Heavenly something (basically die). None of it makes sense to me so I am going to review this like I do Animated movies and give it the ole Apple Juice Grades.
Animation – D
Okay so I understand that they did not have a great start to work with from the musical costumes.
But seriously? The digital fur technology looked so damn creepy and just completely off putting to me. I had a hard time watching the scenes because I just did not want to look at the characters.
This technology is going to be a big time no from me and I hope they do not try and make Dogs the movie or something.
Cast – C+
The cast of superstars all was good but you only get to see each of them for a scene or two. I am going to run down the cats though and their absolutely absurd names.
Francesca Hayward – Victoria
In the Musical this character has an Iconic ballerina sequence so they went after a newcomer who specializes in it with Hayward. We get to see the movies eyes through this character, as she weaves us through each scene, but they also never really giver her a shining moment.
Rebel Wilson – Jennyanydots
I have a well documented history of me not enjoying Rebel Wilson (See Isn't it Romantic, and Jojo Rabbit), and she really was just more of the same in this. I understand that she has basically been typecast as Fat Amy from Pitch Perfect, but I just wish she would try something different. The schtick has worn off for me.
Jason Derulo – Rum Tum Tugger
Playing "The Curious Cat" he gave a pretty energized performance actually and I enjoyed his scene probably the best. His British accent was whatever but he still at least seemed like he was having some fun on set.
James Corden – Bustopher Jones
He plays the fat cat who just tip toes his way around the food in all the trash cans of the alley. He is honestly pretty disgusting and I was horrified when they were all scavenging through the waste. It really just felt unnecessary.
Taylor Swift – Bombularina
Completely forgettable performance from one of the biggest pop stars on earth. She played a character that had some dust and was hypnotizing cats for Macavity. Her song she sang stunk and honestly the original song she wrote for the movie was not very good either.
Ian McKellen – Gus the Theater Cat
He played Gus the Theater Cat which is short for, yep you guessed it, Asparagus. He had one ultimately forgettable song and left after that. Not the best look for the big homie Gandalf.
Judi Dench – Old Deuteronomy
Old Deuteronomy gets to make the choice for which Cat gets to die at the ball and why not get Dame Judi Dench. She gets a big ole white fur coat and a weird ass 4th wall break at the end but we still love her.
Jennifer Hudson – Grizabella
She probably had the weirdest transition to the digital fur technology, which is not her fault, but it was still weird to see her like that. But of course they are going to give her the showstopping moment and she gets to belt out memories at full volume. Shocker, she can still wail.
Idris Elba – Macavity
Okay in the show his character never even is on stage so they gave him a bit more to do in this at least. But OH MY GOD when he took off his coat. It was a sight I really wish I could never see at all. His head also looked like Helena Bonham Carter's from Alice in Wonderland.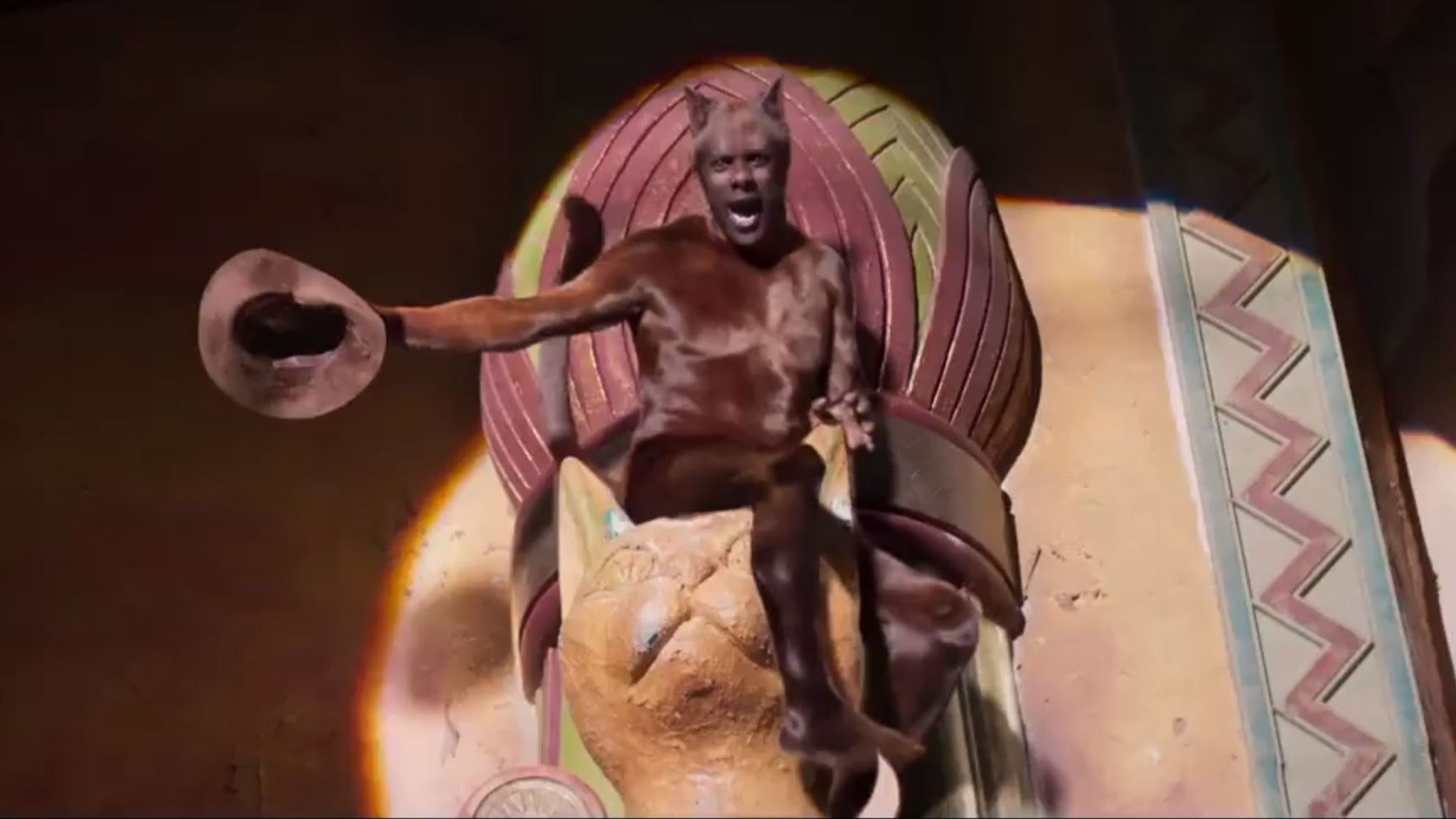 Music – D+
I really do not like the music from Cats to begin with but they really ruined some of the songs in this. I did not like their opening at all, and man the Mr. Mistoffelees number was tough. I also, as I said above, did not like Taylor Swift's new song Beautiful Ghosts.
Story – F
LOL what story.
*A couple other tidbits
There were people singing in my theater, those people stink.
The cockroaches were just disgusting.
I am out on this movie and any Cats related content for awhile. There are not a ton of redeeming moments at all in this and I respect the effort of Tom Hooper and others, but for me this is one of the worst movies of 2019.
Juice Rating:
*You can find all of my Movie Ratings here.
*You can follow me on Letterboxd here.