In honor of The Mighty Ducks: Game Changers coming to Disney+ this week, here are some thoughts on the Franchise as a whole. Let's be clear, these movies are classic, but when it comes down to it we gotta discuss some of these issues.
1.) The Flying V was blatantly offsides and an absurd amount of interference penalties happening. There is also an issue with how long it takes to set up. Jesse is waiting behind the net for a good 30 seconds before he even calls the play out. This has to be snuffed out even by that team that got the measles and forfeited the season.
2.) Goldberg's goalie pads and Karp's football helmet in D1 did not conform to youth uniform standards. Also in D2 when Goldberg says he is from Philly, I guess we are supposed to remember he had a Flyers jersey on in the beginning of the first one.
3.) No way Dean Portman was on the active roster in D3 – cannot just accept a scholarship and magically show up and play in the game. Also I know he is an enforcer possibly close to the level of the great Doug "The Thug" Glatt (if you know you know) but can he really affect the team on the ice that much? The guy cannot do anything but fight.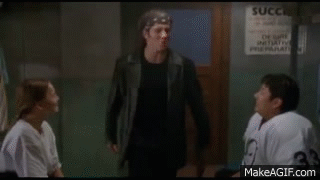 4.) Russ Tyler switching to become the goalie to get off the knuckle puck is a penalty for many reasons.
A. You cannot switch uniforms.
B. Must announce when a goalie change is made.
C. When the goalie's helmet comes off, the play is already dead.
But c'mon it is so great when "The Wolf" screams "THE GOALIE, NOOOOO"

5.) Gunnar Stahl stopping on the penalty shot is not allowed, and honestly it is asinine for him to stop to begin with because of the set up. Coach Bombay says that his move is triple deke glove side, well Gunnar is not even deking to begin with. But if he actually did a triple deke, why would you stop and make you move meaningless?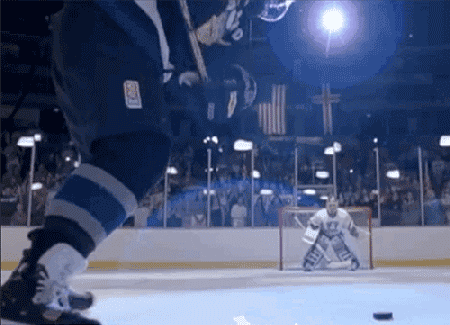 6.) Charlie cannot take the shootout without a helmet on. If you know anything about hockey, the triple deke is not an actual move (cough cough Gunnar Stahl). Again none of the dekes that are being done are moving the goalie, which is the goal of the move to begin with.

7.) Adam Banks going from the Hawks to the Ducks is a clear case of gerrymandering. The main issue with Banks though is the kid just has no personality. He is a hockey robot who has been trained by his dad to be perfect, so he never gets the respect in these movies even though he is the best player in all them.
8.) Dwayne Robertson lassoing a defender to the ground mid game – Think about how many rules this breaks.
9.) How is that team the best youth hockey players in America, half of them can't even skate. Literally you have Jan (wannabe Hans) stacking soda cans for Luis to be able to stop? They can't find someone with like 90% of Luis' speed but can actually stop? Also if you are telling me Goldberg is better than Julie the Cat than what are we doing here? Also again can we get some love for Adam Bank, star of the tournament on 1 hand?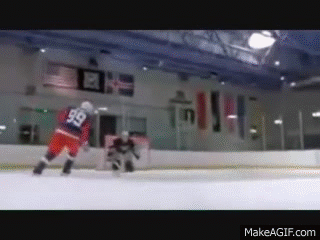 10.) There are NOT pickup youth hockey games to be played in downtown Los Angeles, on a roof no less! This was the early 90's and hockey was not even very popular in L.A. and let's just be honest Russ Tyler and his friends would probably be playing basketball rather than hockey. Also the man who's window they break is extremely cool with a broken windshield.
11.) Who did Trinidad and Tobago have to beat to qualify for the junior goodwill games, I mean they are basically the Cool Runnings team of the tournament. They absolutely STINK and the U.S. team is ruthless, but boy do they have fun doing it. Watching them dance to those steel drums is so fun.
12.) We are made to believe Gordon Bombay is a big shot 28 year old lawyer in the first movie, so our assumption has to be he quit hockey before or after high school. At the end of the first movie he heads off to the minors, and then at the beginning of the second they say at 29 years of age he is one step from an NHL Call Up. What is happening, he took ten years off of Hockey and yet he still is able to make the NHL at 29? This just makes me reiterate that the people who made these movies know nothing about actual hockey.