Where are my subtitles people at? It's a contentious topic for many, but you can pick up so much of the extra dialogue on shows and despite what people say, it doesn't take away from from the viewing experience at all. Now when you're watching a Bong Joon-Ho classic like Parasite, you'll need to pay attention a bit more but we all know how incredible that movie was. He's got 4-5 other bangers that you should also check out. (Okja, Snowpiercer, Memories of Murder, Host)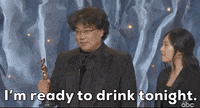 He said at his Parasite Oscars acceptance speech, "Once you overcome the one-inch barrier of subtitles, you will be introduced to many more amazing films."
So if you're reeling from The Office leaving Netflix, or just tired of rewatching the same shows over and over, I've got a few suggestions to try out in the new year.
Let's start with Dark, which has recently wrapped season three in 2020. This one came highly recommended by a good bud Ahmed over the last couple years. Now, I'm all in for heady thrillers that involve time travel, but boy did this take it up a notch. It's been one of the most popular shows on the streaming platform year over year and for good reason. A town in Germany flanked by an old nuclear plant is experiencing some mysterious dissaperances. The close-knit community is working hard to figure out what is happening. There are characters that span 3 distinct timelines and the question is, are they just flashbacks or are singular characters hopping through time? I won't say because, frankly, I don't know. I'm still on season one but am taking notes just to be sure.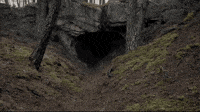 Eerie tunnel right? But if you're looking for the easy way out, they have voiceovers by american actors which doesn't do it justice, but whatever floats your boat right?
Next up is a recent release, To The Lake based on a novel Vongozero about a virus that strikes Moscow causing creepy zombielike symptoms before a quick death. Quickly locked down and now a ghost town, our central characters have found themselves lucky to be vacationing in the countryside. It's an interesting group with a young father (Sergey) and his second wife who after a contentious dinner with their "friends" end up having to band together along with his father, ex wife and their young son. Also along for the ride is Sergey's autistic stepson and the other families teenage daughter right out of rehab. (She has a hilarious intro scene as shes getting check out of the care facility)
As they hunker down in the middle of nowhere they begin encountering challenges with the cold winter weather as well as fellow countrymen competing for their limited resources. It's a tense watch witch a number of interesting plotlines that get introduced episode after episode.
Moving east from Russia to Japan, we have Alice in Borderland. One of their top ten trending shows at the moment is a sort of rapture meets Saw mashup. Three buddies enjoying an afternoon in the city soon discover after a blackout that they are the only inhabitants left in the bustling Tokyo metropolis. After confirming their worst fears that they are alone out there, they find some unnerving messages on the city street signs directing them to a nondescript hotel down the road a ways. What they find there is only opening the mystery box that is to come. They find themselves stuck in a sadistic game of survival hosted by a still unknown entity. They also find that they are not the only one's left in the city playing these games. To make matters worse, the only way to survive is continue playing as we find early on that if you opt out, you get a laser to the dome from the sky. Sketchy right? The games are fun to watch the groups navigate and fight for survival.
It's definitely keeping me on the edge of my seat and asks the question, "Is it better to work as a team, or go it alone?" We'll have to keep watching to find out.
Another trending option is called Sweet Home, this one out of Korea which includes some pretty terrifying monster creatures disguised as neighbors in our protagonists new apartment. I haven't checked it out yet but it's been racking up views like a Jake Paul tik tok so definitely give it a try.
Lastly, I can't forget to mention Money Heist out of Spain. It's got like 6 seasons on netflix and some people swear by it. I don't know much more than that but i'll give it the seal of approval.
Leave us a like or comment if you've checked any of these out!
Until next time…