Gimme a Hell! Gimme a Yea! Stand up right now if you enjoyed the drunken shenanigans of the BMS Mountain Goats back in the day. After originally airing on Spike TV back in 2010, the show picked up cult status after hitting Netflix during my college years. If you didn't know, the show is now streaming on Amazon Prime which prompted my first rewatch in quite a few years. I was curious, how would the show stand up? Would my 28 year old self enjoy it as much as I did when I was in college? Let's dive in.
For those who forgot, BMS follows the life of a second string QB, Alex Moran, and his best friend Sammy Cacciatore as they start their college lives at the fictional football powerhouse Blue Mountain State. They come to school with a simple goal… sex, drugs, and party like rockstars. Those personalities fit right in with the rest of the team as we are introduced to Captain Linebacker Thad Castle. Over the course of the first season, we see the team partake in a multitude of hijinks including a drug olympics, pocket pussy sharing, marathon monday, and rivalrys with the lacrosse team.
For those expecting a Friday Night Lights type show, I am sorry for your disappointment but this show focuses very little on the football.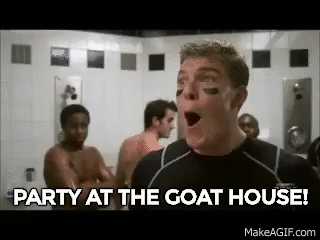 Though a college football team is made up of nearly 100 players, BMS focuses on a small core of characters over it's three season run. Let's start with our backup QB and his trusty mascot sidekick. Alex Moran has his priorities right from the start, he's going to be a career backup, trickle down bang all the football roadies, and enjoy his stressfree football career before returning home and becoming a gym teacher. You gotta hand it to him for having this planned out by his first day on campus. His lax demeanor couples perfectly with the try-hard, no fear persona of his best friend Sammy, played by Romanski who also created the show (and, for what it's worth, has no aversion to full frontal|see. HBO's 7 Days in Hell).
Sammy Cacciatore will go down as one of the most outrageous characters of all time in my book. I mean in the first episode, he finds a way to blackmail the existing mascot into giving him the job. That's just the tip of the iceberg. He proceeds to accidentally kill the live goat mascot, kill one of the nerds that helps the team with their homework, constantly schemes the cheerleaders to try to sleep with him, and even deploys a pay-for-play conspiracy in order to get the players early access to NFL agents and improper benefits. Oh, and he has a questionable relationship with his sister, Mary-Jo, who joins the cast in season 2. I'll never say this out loud, but I wish I had the courage that he does.
Now, no football show is complete without a captain. Introducing Thad Castle: middle linebacker, director of hazing, and mohito aficionado. Though he might seem like a serious, no laugh character in the first couple scenes, we learn that Thad is just as wild as the rest of the crew. In addition to being the team's best player on the field, he seems to have as much, if not more, fun off it. Alan Ritchson deserves an emmy for this portrayal. His enthusiasm for the success of the team is demonstrated constantly. Whether it's him forcing Moran to acknowledge his great plays with a butt slap, or teaching the team how to perform oil changes to beat a drug test, Castle does it with a smile on his face. He also coined the wonderful phrase "Bro Beans" which my friends and I still use to this day. He is also the subject of many of the more serious issues that plague college football. In season three, he struggles with his decision to leave college early to go pro, and later on deals with a concussion which ends up being one of the funnier episodes of the series. We also can't forget when he meets his new friend in the Blackout beer pong episode in season 3. "Couch Couch Couch!"
How about the two one season wonders, Craig Shiloh and Radon Randell? Shiloh comes in as a freshman with Heisman expectations and an overbearing girlfriend who seems to have his life planned out already. Talk about No Fun League. Craig also seems to be the only levelheaded character in the entire show, acting as a moral compass for Alex and the crew. That's not to say that he doesn't mix it up from time to time. A personal favorite is the bit where the stripper, played by none other than Juwanna Mann, needs to felate Shiloh in order to drop charges against the team's starting QB.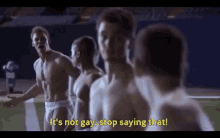 At the other end of the spectrum, We've got superstar QB Radon Randell, played by Page Kennedy of Vine fame. With the best intro of the show, Radon sets the bar for season two.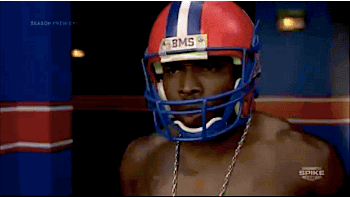 Another wild card added to the mix brings even more fun to the goat house and a new evening show to the BMS Campus. It's Dreams! with Radon Randell. Radon brings a sense of swagger that none of the other players on the team have shown. Whether it's his personal hyperbaric chamber or passing out flyers asking if he got the recipient pregnant, Randell brings the heat.
Now I can't forget fan favorites Donnie and Harmon. The center and kicker are always there for added laughs. I mean, Harmon just has the perfect demeaner and the perfect drug for every occasion. Donnie brings the giggles. That's about it but it's worth bringing up. Harmon was such a fan favorite that he got his own Kicker-centric episode which highlighted the weirdness of being a kicker. What about when he was trapped in a dic pic love triangle with Coach and his ex-wife?
The show rounds out with great cameos from a number of famous footballers such as Brian Bosworth and Bill Romanowski. Chad Ochocinco joined as a former BMS football captain. Dan Patrick and Boomer Esiason have spots as sport show hosts and Chuck Liddell teaches Sammy how to do the best fight move in the world, despite being a hallucination.
My overall thoughts were mostly unchanged after finishing my rewatch. There are some great and memorable moments in the show but as we all knew, the vulgar humor the show relies on can get a bit one dimensional for someone with a more cultured palate.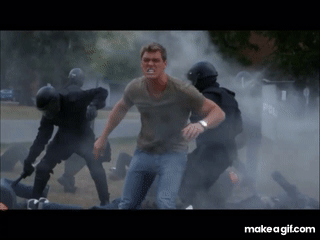 If you never saw the movie "Rise of Thadland" that was crowdfunded back in 2014, you can also find it streaming on Amazon prime. I'll be honest though, it's pretty trash.
Until next time…