If you're like me, then you are missing baseball this spring. What makes things even worse is that my hometown Cincinnati Reds are actually ready to compete again after 7 years of rebuilding. (Free Agency!!!) How am I filling the void, you ask? Well, I'm rewatching Hank Azaria's Brockmire on Hulu.
Hank Azaria, best known for his voice work on the Simpsons (He voiced 24 characters), is a name you've probably heard but struggle to match a face. You've seen him on Friends, Along Came Polly, and even as the younger version of Patches O'Houlihan in Dodgeball.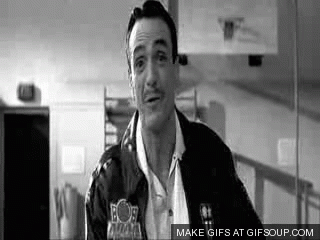 Brockmire is truly his first starring vehicle and he absolutely crushes it! The titular character, Jim Brockmire is an alcoholic baseball announcer who, after an epic job-ending meltdown live on air, tries to make his way back to the bigtime after a stop in the Minor Leagues. The show is based on a 2010 sketch Azaria did for Funny or Die which features the likes of Dan Patrick, Joe Buck, and Rich Eisen.
Let's start with that meltdown. It is the first scene of the series and boy, is it a doozy. What makes any baseball announcer great is their ability to storytell while also keeping you updated with what's happening on the field. Brockmire starts what seems to be a lovely anniversary tribute to his wife. This then morphs into a drunken tirade against Lucy and her sexual misconduct with their neighbor and a host of other participants. His ability to keep the fans updated on the game while this goes on reminds us of the greats like Vin Scully and Marty Brennaman. We get some awesome reaction shots of fans at the stadium and families sheilding their kids ears before the feed is cut.
As far as opening scenes go, this could be my favorite. What better way to hook an audience than by taking a mundane 8th inning plate appearance, mixing in a bit of whiskey, and seeing what legendary announcer Jim Brockmire has to say about his wife's infidelities. I'll put this in my Mount Rushmore of memorable openers along with Breaking Bad, Dexter, and The Newsroom.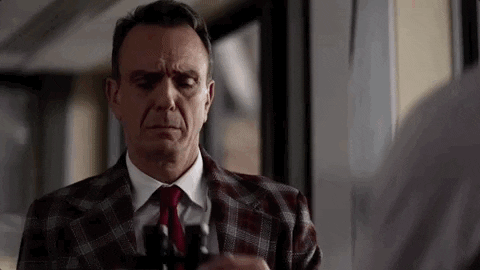 Ten years later, we catch up with Jim, who has found himself in Morristown, PA as the new voice of the Frackers, the local Minor League team. Team owner Jules James (Played by Amanda Peet) takes him to a bar to catch him up on what he's missed (Jim isn't an internet guy and has been on a sex and drug fueled trip around the world). His new producer, Charles (Played by Tyrell Jackson Williams), gives him an update on all the viral videos that have been circulating since his departure in 2007.
Throughout the season, Brockmire's relationships with Charles and Morristown blossom and we see him make huge strides towards his return to the real world. He even starts a sexual relationship with Jules in order to maintain a winning streak. Their first drunken sexual encounter includes a hilarious moment with Brockmire calling their coitus as he would a baseball game. I won't spoil the rest of the season but this is a show I cannot recommend enough for anyone who likes baseball or just funny shows in general. It is going on it's fourth and final season and has continued to impress fans and critics alike, boasting a 94% on Rotten Tomatoes across both metrics. So check it out on Hulu and let me know what you think.
Until next time…