Okay Juicers, so I am doing this 30 day Film Challenge that should really give my thoughts and emotions an interesting time during the next month of quarantine. Day 16 they asked me to choose a movie that is personal to me. And that movie for a multitude of reasons is Phil Alden Robinson's Field of Dreams.
Growing up my Dad had a goal with me to see every baseball stadium. It took about 10 years but we ended up doing it! I had bats and hats from each stadium and I fell in love with everything about the sport. And of course I was obsessed with Baseball movies.
My dad and I love this movie so much, that when I was the president of my high school Buffet Club (yes it was as dope as you think it was), he came up with the most incredible slogan for our shirt, ON THE DAMN SPOT.
*Spoiler filled but its a 32 year old movie, get over it
IMDB Synopsis
When Iowa farmer Ray (Kevin Costner) hears a mysterious voice one night in his cornfield saying "If you build it, he will come," he feels the need to act. Despite taunts of lunacy, Ray builds a baseball diamond on his land, supported by his wife, Annie (Amy Madigan). Afterward, the ghosts of great players start emerging from the crops to play ball, led by "Shoeless" Joe Jackson. But, as Ray learns, this field of dreams is about much more than bringing former baseball greats out to play.
"If you Build it He Will Come"
This is the famous line that "The Voice" says to Ray Kinsella (Kevin Costner) at the beginning of Field of Dreams. Ray is a confused farmer who for reasons he explains in exposition decides to plow part of his corn field and make a baseball field for "Shoeless Joe Jackson (Ray Liotta)." I know I know it sounds insane but this is not a story about realism, it is a story about regret, and how far we will go to ease someones pain (see what I did there).
This voice takes Ray on a journey from Iowa, to Boston to meet up with Terrence Mann (James Earl Jones) a former writer who now just wants to be left alone. Earl Jones is so damn good in every scene he is in my god. Watching him, it is no wonder he is one of the most iconic actors in history. They eventually hear another voice that takes them to Minnesota to meet Moonlight Graham (Burt Lancaster), a former ball player who has become a doctor. All of this is done in a dream like state where you can never really tell what is real and what is magical. Eventually the journey leads back to Iowa and the eponymous field.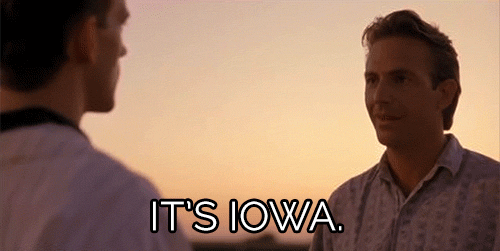 On that field on the believers can see all these old famous baseball players emerging from the corn field each day to play on the diamond. But since it is destroying the Kinsella's profit they might have to sell their house. Not on Terrence Mann's watch as James Earl Jones gives one of the great sports movie speeches with the "People Will Come Ray." He reminds people what baseball meant to this country at the time, and how it has always been there to mark the time. And that people would pay to watch these old players play (a little much I know, but it works).
All of this leads to the biggest revelation of all, that the field was really built so that Ray's dad John could come back and play. When you realize that is happening in the story, the eyes start watering immediately. That indelible score kicks in and the waterworks are flowing and then Costner hits you with the god damn dagger.

Yell at your wife to stop cutting the damn onions, because the tears are streaming and there is nothing stopping them.
*A couple other tidbits
This was Burt Lancaster's last movie and man if he did not go out with a memorable performance.
Amy Madigan is truly incredible as Ray's badass wife and I was so happy to see her pop up in The Hunt.
As I said above James Horner's score is so memorable.
Apparently Ray Liotta has never seen this movie because he thought it was stupid.
After seeing Citizen Kane I finally understand the Rosebud joke!
Baseball was something I shared with my Dad growing up, and this movie represents that perfectly. I know whenever I watch this movie for the rest of my life I will think of my Dad and everything he has taught me about sports and life.
Juice Rating:
*You can find all of my Movie Ratings here.
*You can follow my Letterboxd account here.