Okay Juicers, so I am doing this 30 day Film Challenge that should really give my thoughts and emotions an interesting time during the next month of quarantine. Day 23 asks me to choose a movie from a Director who is not alive anymore. I thought about choosing a Tony Scott movie, or maybe something from Stanley Kubrick, but I thought I had to choose from one from the master of suspense and that is Alfred Hitchcock. Now I have seen Psycho, Vertigo, and Rope so I decided to choose one I had not seen and that it Rear Window.
*A few spoilers here
IMDB Synopsis
The story of a recuperating news photographer who believes he has witnessed a murder. Confined to a wheelchair after an accident, he spends his time watching the occupants of neighboring apartments through a telephoto lens and binoculars and becomes convinced that a murder has taken place.
"I'm not much on rear window ethics"
Alfred Hitchcock is one of the early kings of cinema. He specialized in suspense thrillers that utilized deft camerawork and an ominous score through. Rear Window is known as one of his great works and it is easy to see why. The movie shows off all the signatures that make Hitchcock a legend while also telling a thrilling story.
Jimmy Stewart plays Jeff Jefferies, an injured journalist who passes his time by watching his neighbors through their windows. He delights in learning about everyone around him and understanding their private lives. However, he believes he witnesses a murder and does everything he can to convince his girlfriend Lisa (Grace Kelly) and his Detective friend Tom Lloyd (Wendell Corey).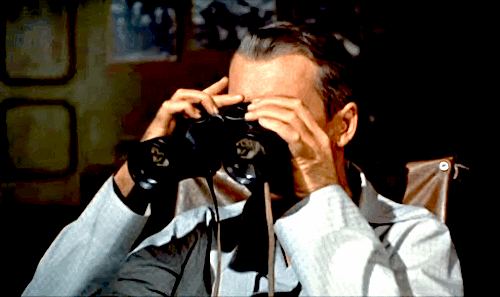 Jimmy Stewart who is one of America's greatest actors, gives an incredible performance in this. He is confined to a chair in one room the entire time but he is magnetic and clearly all in with this character. His chemistry with Grace Kelly is palpable as well and watching them casually discuss the murder and the facts is just fascinating. The greatness of all of this movie is in its simplicity. One A plot, with a minor B plot, one set, and a great script, that is all you really need.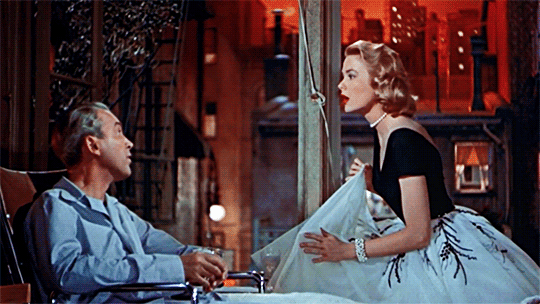 *A couple other tidbits
They actually built real functioning apartments for the set that people actually lived in.
Grace Kelly apparently refused to smoke in any movie besides this one.
Disturbia with Shia Labeouf seems to be a remake of this movie.
This movie is classic Hitchcock in every way and I love it. You get great performances all around, a fantastic mystery story, all while getting strung along by the master of suspense. And best of all you never feel bored or that a storyline is out of place. For most people this is a master work, for Hitchcock it is just another in a line of masterpieces.
Juice Rating:
*You can find all of my Movie Ratings here.
*You can follow my Letterboxd account here.