Okay Juicers, so I am doing this 30 day Film Challenge that should really give my thoughts and emotions an interesting time during the next month of quarantine. Day 21 is making me admit something embarrassing, because the question is pick a movie that you dozed off in. Well, the first time I saw Life of Brian I was pretty young and it is from the 70s and sue me, I fell asleep (sorry Dad). I have rewatched since, but now I will be giving it the ole Juice breakdown.
*Not much to spoil
IMDB Synopsis
A young man, Brian, who was born one stable down and on the same night as Jesus, becomes intrigued by a young rebel, Judith. To try and impress her, Brian joins the independence movement against the Romans, the People's Front of Judea. However, in an attempt to hide from the Romans, he relays some of the teachings he heard from Jesus, which ends up spurring a crowd to believe he is the Messiah. While trying to get rid of his followers and reunite with Judith, he embarks on several misadventures.
"Always look on the bright side of life"
Monty Python was a comedy troupe that was in the same vain as National Lampoon, SNL, The State, and on and on as basically foster systems for great comedians. The three most well known from Python were Eric Idle, Terry Gilliam, and the legend John Cleese. After years of doing comedy together, in 1975 they made a seminal movie in "Monty Python and the Holy Grail" which basically brought the satire genre to another level. They decided to follow it up by taking aim at Ancient Roman culture and of course revising history in the story of Jesus.
Life of Brian starts with the wise men mistaking Jesus' house for Brians because he was born next door. This sets off a lifetime of being mistaken for the carpenter and trying to just be his own person. But in true satire fashion the story is less important than the gags and jokes that surround it.
There is a lot of Mel Brooks vibes throughout this movie, but I do think the best parts of this are the parts when they are distinctly taking aim at something. Like the absurdist Star Wars sequence, or the Spartacus "I'M BRIAN" sequence, and of course the waking up naked gag. Everything is very creative and clearly shows that these guys have great chemistry together. Cleese in particular who plays multiple characters, is so funny throughout this and you can just tell he is a star.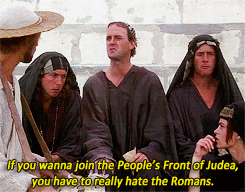 Of course the story loses you a bit because of how ridiculous it is, and some of the gags miss or feel out of date. But there is still enough fun and it is only 90 minutes so it should keep you going (which is ironic seeing as I fell asleep the first time).
*A couple other tidbits
The stoning scene is some of the best work of Monty Python.
Six cast members in this played 40 different characters.
The famous ending with the "Always Look on the Bright side of Life" is still great and has been in my head all day.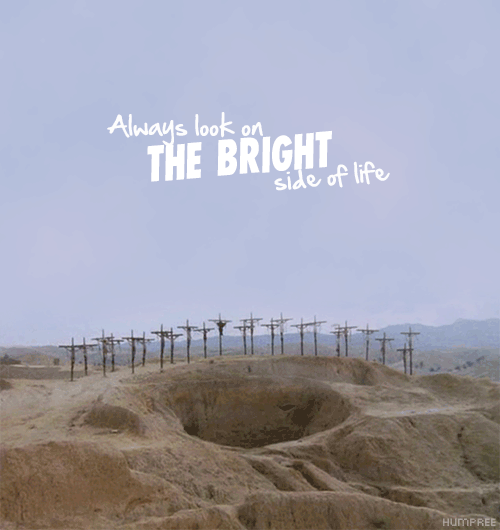 Listen this movie is not going to change how film is looked at or made. But it is a fun story and I am happy to watch it again. I love satire and I think it is important that no one takes things too seriously.
Juice Rating:
*You can find all of my Movie Ratings here.
*You can follow my Letterboxd account here.